The Coral Gables mayoral race between the incumbent newby and a longtime city commissioner might be seen as a referendum on City Manager Pat Salerno.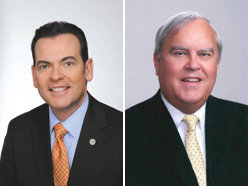 Mayor "Ambassador" Jim Cason, a former chief consular official at the U.S. Interests Section in Havana, is solidly with Salerno and, apparently, lets him lead. Ladra even believes Salerno was feeding him answers to his telephoned interview with Save Dade's political screening committee and that the manager prepared the sectioned binder that the mayor referred to every time the Miami Herald Editorial Board asked him a question Tuesday.
Commissioner Ralph Cabrera — who showed up for the Save Dade screening and got their endorsement, naturally, as the commissioner who championed the city's domestic partner ordinance — has been a thorn in the manager's side from basically the moment Salerno got the top administrative job in 2009.
Some might see that — instead of as a healthy checks and balances insurance policy — as his biggest weakness. That and the fact that he sometimes comes off as an arrogant jerk. But, hey, so does Ladra (except I say I'm "confident"), who admits to a soft spot for arrogant jerks who are right most of the time.
And I think his assholyness could be his best asset.
Cabrera asks pesky questions, demands transparency and doesn't take anything for granted. God bless him. He doesn't back down unless he is given good reason to (read: evidence that contradicts his stance) and his lack of poise and consistent audacity has a sort of "gosh-darn-it-I'm-just-being-me" vibe about it that is refreshing in its unassuming nature.
Even he realizes that he may rub people the wrong way. "I may sound like a total dick, but this race is about transparency and open government, as well as leadership," Cabrera told Ladra when I asked him to summarize what his race was about in one sentence.
He is the most outspoken and unpolitical politician Ladra knows. And that is a breath of fresh air.
But Cabrera is also politically saavy. Or maybe Ladra should credit his longtime campaign manager, Keith Donner, who must be frustrated by the kid gloves he's had to wear so far.
Donner's PAC, Citizen's Action, Inc., has so far mailed two pieces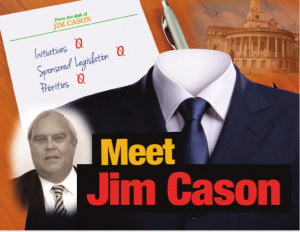 out that softly attacked Cason, who is revered by many of the Gables' high-performing Cuban voters. One calls him an empty suit — who has sponsored no legislation or initiatives in two years on the dais (read: let's Salerno do whatever) — and the other calls him a big spender, and points out his raising fees and votes in favor of the controversial fire rescue transportation fee and to borrow $22 million without public input.
Like I said. Sorta soft. Especially for Donner. But, hey, there are just under three weeks left so Gables voters can expect more candidate mail. Ladra fully expects Cason to strike back with pieces that say Cabrera can't get along with the manager — which, again, is good for checks and balances — and maybe ridicules him for his ordinance on leaf blowing restrictions and proposal to put "plastic grass" at the Youth Center, which soccer players have turned into a mud bowl worthy of an Ultra Festival mosh pit.
Jorge de Cardenas, Cason's campaign manager, says they have three mailers in the bag to go out this week. But he also said they are all positive.
"When you are down, you have to attack," de Cardenas told Ladra Wednesday, referring to an internal (read: unreliable) poll and campaign tracking that he says has Cason up two to one over Cabrera.
Cabrera's campaign was even softer on ads aired on Miami's Spanish-language radio, where the commissioner — an insurance benefits consultant — intelligently praises Cason's work in Cuba but makes a distinct separation between that service and running the City Beautiful.
"I respect Mayor Jim Cason and, as a Cuban, I admire the work he did in Cuba. But this election is about Coral Gables," Cabrera says in pretty perfect Spanish. "And, sadly, we've seen that during Jim Cason's mayoral term, crime has increased year after year."
Cason has already called the ad a scare tactic because Cabrera points to an increase in assaults, auto thefts and home burglaries — and the mayor's silence — and promises to beef up patrols.
"Last year there were more burglaries in Coral Gables than in Opa-Locka. But Mayor Cason doesn't say anything," Cabrera said in his 60-second piece, which sort of reminds Ladra of the 2011 county recall mayoral campaign's "We're Not Hialeah" robocall.
But police patrols and crime has traditionally been a issue in Gables elections. And a good number of the Cuban Gables voters have crime high on their mind.
Cuba, on the other hand, is usually more present in Hialeah campaigns than in Coral Gables.
Enter Cason in 2011 and all that changed. The mayor is revered by the Cuban voters who put him there, who — much to Ladra's frustration — seem to want to make this about the mayor's having been a thorn in Fidel Castro's side. Cason was far less of a puppet then. And one could argue that he didn't get along with that despot.
But the incumbent also has some solid old non-Cuban Gables support in former Commissioners Wayne "Chip" Withers, Jim Barker and Dorothy Thomson and former City Manager Jack Eads.
Cason also has former Mayor Raul Valdes-Fauli in his corner.
Cabrera has former Mayor Don Slesnick and Miami-Dade Mayor Carlos Gimenez, who was the headlining host at a fundraiser Tuesday night and introduced the 12-year commissioner. Ladra was told that there were more than 50 people there and that Cabrera raised close to $20,000.
The mayor's bff and driver Ralph Garcia-Toledo was also a host, as was Commissioner Anderson, who shares Ladra's bewilderment of Cason's Cuban cred.
"Cason's popularity with Cubans because of his Cuban Foreign Service work makes no sense to me," Anderson wrote in a glowing endorsement of Cabrera published on discourse.net, where one can find the most Gables election coverage, in a piece that basically calls Cason a Johnny Come Lately. "After all, I am a Cuban-born, 53-year resident of Coral Gables and my colleague, Ralph Cabrera, is a Cuban born, 47-year resident.  Our parents lost everything and then made a life again in Coral Gables."
Anderson, too, thinks that Cason — who has never gone against a Salerno initiative — is a "puppet for a despotic City Manager" who has voted for dozen of no-bid contracts (city jobs that don't go through the regular competitive vetting process), she writes, also critical of the incumbent's votes on fee increases, lack of action on a hike in crime and poor treatment of city employees.
"The Mayor never truly expresses an opinion of his own. He is scripted by the manager," Anderson wrote. See? And this was before the telephone screening and the binder.
"Shoddily re-paved streets and skinny palm trees do not a good mayor make.  They are merely cosmetic cover-ups that hide the true issues," she wrote, adding that Cason has no vision for the city.
Ouch.
But she may be right. Cason could very well be an empty suit filled with Salerno stuffing. For all his foreign service, he was never prepared to be mayor. Cabrera, who, as resident wrench-thrower, has voted against every single no-bid contract (God bless him again), is perhaps overly-prepared.
Ladra predicts a close call. After all, Cason barely beat Slesnick in 2011 with 39 percent compared to the former mayor's 35 percent showing — much of which will likely benefit Cabrera this go-around. But that was a three-way race, with former planning and zoning chairman Tom Korge getting almost 27 percent of the vote. While Korge has thrown his support behind Cason — hosting a fundraiser that de Cardenas said was the biggest, netting close to $20,000 — that group could arguably be split down the middle.
Which is why, with less than three weeks to go before the April 9 election, this race is probably just getting started.
The two mayoral candidates will debate tomorrow (Thursday, March 21) at 7 p.m. at Coral Gables Congregational Church, 3010 DeSoto Blvd., in front of the Biltmore. Which, lucky for us, has a bar for the after party.