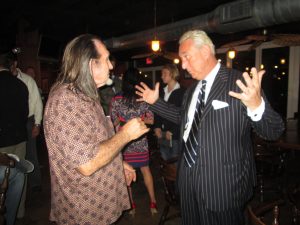 Longtime legendary GOP kingmaker Roger Stone — a veteran Republican Party campaign strategist for the likes of Ronald Reagan, Jack Kemp and both George Bushes— says he may run for Florida governor with the Libertarian Party.
But fueling fire on arguments that the move is another one of his brilliant political strategies to hurt and draw votes away from Charlie Crist — who is seen as the strongest potential challenge so far (imagine that) to Gov. Rick Scott — Stone said Tuesday night that he doesn't expect victory.
"My campaign will not be about me, becasue I admit from the get-go that I can't win," Stone told Ladra, after he addressed a group of about two dozen supporters and local Libertarians at Monty's in Coconut Grove.
"It's a tongue in cheek campaign built around some important issues. But I have no illusion about being Governor."
Too bad. Ladra likes him. And it's not just because of the Richard Nixon tattoo he got on his back in California in 2007, homage to one of his first political gigs: adviser to post-White House Nixon. Stone is fresh and on point and says what he thinks without worrying what others may think. He's natural and accessible and doesn't dodge questions. He's smart and Ladra, a card-carrying Independent, likes the idea of a stronger third party.
But he's known to be sneaky. Let's forget for a moment his anti-Hillary Clinton PAC with an intentionally offensive acronym. In 2010, Stone ran the New York gubernatorial campaign for Madame Kristin Davis, who had been linked to a scandal involving Eliot Spitzer in which Stone was accused of leaving an obscene-laden voice mail message. He promised that the colorful bid was not a hoax or publicity stunt, but was later spotted at a campaign rallly for another candidate.
And I'm not the only one who thinks that if he runs — he isn't even going to announce until April 20, at the FSU Hempfest — he could be a plantitade. Another writer in the audience Tuesday asked about it as well.
"I think I've proven my Libertarian bonafideness. I couldn't hit Mitt Romney any harder on stonezone.com than I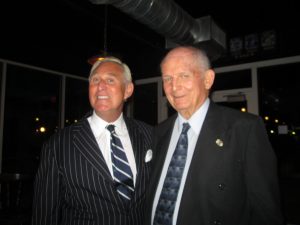 have," Stone answered, referring to his blog posts on the Republican presidential candidate. "The idea that I would enter this race as a spoiler… I have no interest in spending the money and every weekend to help someone else."
"Now, do I think Charlie Crist is more of a dangerous individual? Yes, I do," said Stone, who definitely hit Crist a few more times than he hit Scott Tuesday night. "Here's the Charlie Crist political agenda," he said and thrust his finger into the air. "Which way is the wind blowing?"
He is, he says, interested in helping the Libertarian Party and even if the move is a sinister play of campaign misdirection, it could also serve to bolster and stimulate the growing third party.
It certainly will keep things interesting.
Stone is in favor of legalizing marijuana and gay marriage, though the fact that he puts those two together could be a trick. He is for casino gambling and says that the Seminole tribe currently has a legalized monopoly on the market.
"As Governor, I would tell the FDLE to surround the Hard Rock Casino and close it down," Stone told me.
Wow. Forget interesting. This could get fun.
But first, we are going to have to convince him to jump in. Stone said he could take all year to decide, and certainly wouldn't campaign until after he finishes working on a New York mayoral campaign. But then he said he would likely announce a run, if he runs, on April 20, at 4:20 p.m. at the Hempfest legalize marijuana festival.
In the meantime, however, you can get Stoned at several other Florida locales where he plans to stop and talk to Libertarians: Tampa, Pasco, Hillsborough and Broward counties, among them.
"I'm going to test this puppy out on the road," he said.
And what a road trip this promises to be.