A voter referendum.
That must be the different "tack" Mayor Carlos Gimenez told his friend about when talking about the Miami Dolphins' stadium a couple weeks ago.
Gimenez bff and campaign driver Ralph Garcia-Toledo said the mayor told him this at his house the Sunday after the Dolphins got a yes vote from the commmission to urge legislators to allow an additional penny on the bed tax to pay for half of a $400 million renovation that he had "another tack" on the matter.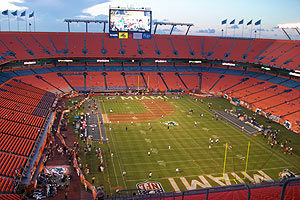 Two weeks later, on this Sunday morning, we get a surprise (not for everyone) on the online version of the Miami Herald, which states that State Sen. Oscar Braynyon II — one smart guy and the Democrat that represents Miami Gardens, where Sun Life Stadium lives — has urged for the voter approval measure and that Gimenez may have a press conference as early as Monday morning about it. (Update: press conference confirmed for 8:15 a.m.).
The story also says that the Dolphins people had poopooed a referendum last month because it couldn't be done in time to get the Super Bowl for whatever year and that "the change of heart comes after local legislators left the stadium bill off their list of priorities for this year's session, hurting the team's chances of winning approval in Tallahassee."
Uh, Ladra begs to differ.
I think the "change of heart" came way before that; they knew going into the Jan,. 24 commission meeting, where Commissioner Esteban Bovo told them there was no appetite for this in Tally, that they would need a Plan B.
"Another tack," is what the mayor called it when he invited Garcia-Toledo to his home the Sunday after the Jan. 24 commission meeting, under the guise of checking out some kitchen renovations.
"I have another tack on the stadium," the mayor told him.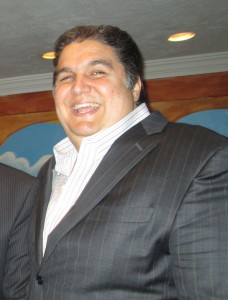 Garcia-Toledo told me this over breakfast at Versailles on Tuesday. But he was mum on the details. I actually said "it has to go to the voters." Nada in response.
It wasn't because he didn't know the details. He would not answer then, nor two days later when I called him to see if the mayor would let him give me details but he "didn't get the green light.
"The mayor did not give me persmission to talk about it," he told me.
Braynon must not have permission to talk about it, either. He hung up the phone after he picked it up the first time I called Sunday. He must not have Ladra on caller id. After that, it went straight to voice mail.
But this referendum vote must be the other "tack."
Unless this is all smoke and mirrors and there is yet another tack.
After all, an election still costs somewhere between $5 and $7 million, unless they tack — heh heh — the question onto another countywide ballot. The Herald story puts it in May, but those elections are just in North Miami, North Miami Beach, Sweetwater and Bay Harbor Islands. So won't it still cost to go countywide?
And will Stephen Ross, the millionaire owner of the Dolphins, pay for that himself?
Why not? Ross — whose Miami Dolphins Ltd. gave $25,000 to Gimenez's Common Sense Now PAC, according to the campaign reports — is likely already paying for a community outreach campaign, ala The Rouse's Village of Merrick Park, and Ladra can't help but wonder if the same people in that are involved (more on that later). That 1998 referendum to block the Rouse's mega shopping center in Coral Gables was blocked — in other words, they got voters to approve it — in what turned out to be the most costly per vote election in Florida history.
Well, records are made to be broken.
But if this stadium vote gets expensive, I am sure that Ross can find others to help him finance a public opinion campaign before the vote, especially among brethren who contributed to the mayor's electional $3.8 million, the most of which went to the PAC ($2.7 mil).
Among the first I'd tap: Garcia-Toledo, a sports lobbyist who may benefit from stadium seat sales — certainly benefits from facility improvements — and who gave at least $27,000 to the PAC.
And he hangs out in the mayor's kitchen.