Some things never change.
Ladra was at Hialeah City Hall for all of nine or 10 minutes, summoned there by a media release about a press conference with both Attorney General Pam Bondi and Hialeah Mayor Carlos "Castro" Hernandez about a national mortgage settlement.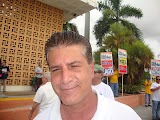 But don't ask me what they said. I was kicked out before the cameras started rolling – proving yet again that Castro has earned his nickname and that the Hialeah Police department works as his own private G2 enforcement squad, violating civil rights whenever its convenient for him.
I was chatting with the two other journalists there, when Police Commander Oscar Amago stepped into the conference room and asked, "Elaine, can we talk to you for a second?" I told them I could talk to them in the mayor's conference room, in front of El Nuevo photographer Hector Gabino and a cameraman from Channel 23. But no, Amago said. He wanted to go out in the hall.
Not one to get into discussions with the cops, especially in Hialeah where I know they are itching to arrest me on trumped up charges of something or other, I complied. In the hallway, a Det. Delgado – on Amago's cue – asked me for my credentials. But they know very well who I am. They also know that I don't have credentials (do I have to make my own? That's ridiculous) and so this is their way to get me out of the way.
Then they escorted me from the fourth floor down the elevator and out the door. I asked if I could go to the third floor to request some public records regarding the upcoming election.
"Another time," Amago said.
"But this is a public building," I protested, maybe a little softly. (My daughter will kill me if I get arrested for no reason today. She needs to get school supplies at Staples.)
Silence. Amago even had a bicycle officer named Espinosa escort me practically to my car in the parking lot.
Earlier, after I had arrived, I heard someone rush into the office of Castro lackey Arnie Alonso and announce that "that blogger" was there.
"Whaaaat," Alonso exclaimed pretty loudly, probably unaware that his office door was open and we could hear him. Moments later, the police arrived to escort me away.
Silly Castro. Why is Hialeah Mayor Hernandez so afraid of Ladra?
Is it because he knows I can see right through him? Is it because I may have suggested to Ms. Bondi that her office look into Hernandez's loans to maquinita Recaredo Gutierrez? You know, the private, personal loan where first Castro said he was getting paid interest – at very high rates – and then he said he was getting paid the principal (read: once he realized he may get caught doing something illegal)?
Ladra knows this is not as tidy as mortgage fraud but, c'mon, it's sexier. Here, you have an elected with a shadowy shadow banking past and you are going to stand with him for a photo op on some "feelgood news" junket initiative that he can then use in his re-election campaign?
What is wrong with that picture?
Well, there are only 10 months until the Hialeah elections. So expect Ladra to get kicked out of official city business affairs another dozen or so times.
Anybody know a good lawyer? Ms. Attorney General?