If it looks fis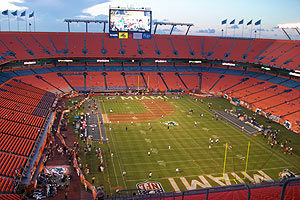 hy and sounds fishy, it might be a different fish, but it still smells fishy.
In their quest to get public financing of improvements to Sun Life Stadium, the owners of the Miami Dolphins want to paint themselves as "a different fish" than the Miami Marlins, whose taxpayer-paid stadium helped lead to the historic recall of former Miami-Dade Mayor Carlos Alvarez and a county commissioner and still leaves a bad taste in our mouths, years later.
And the majority of the Miami-Dade Commission seem convinced, and forgetful of 2011, since they approved Wednesday the "first step" toward that end, a resolution of support sent to the Florida legislature so that they allow the county to levy an additional penny on the tourist bed tax for the upgrades.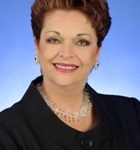 "It's totally unfair to judge the proposal of the Dolphins to the proposal by the Marlins," said Commission Chairwoman Rebeca Sosa, who voted on the baseball team's raw deal and admitted to having been burned before.
"Because if you have 10 children and one does something wrong, you don't punish the other nine," Sosa said, just before she voted against the measure anyway for "our legacy team," as non-binding as it was.
Three others on the dais also had better memories than the rest: Commissioners Javier Souto, Xavier Suarez and the surprising leader of the unbelievers, believe it or not, Commissioner Esteban "No Es Tan Bobo" Bovo (maybe just for today, since he sounded smarter than anybody else up there), who was actually one of the electeds ushered in in the post-recall free-for-all.
Yeah, Ladra was shocked, too. But Bovo made a lot of sense and was the first and most serious to question the proposal, and tell his colleauges it's dead in the water.
"The Dade delegation is not on board with this," the former state representative from Hialeah said straight out… even though Ladra suspects that most commissioners know legislators are not about to do something that will look like a giveway of tax dollars the year after the GOP majority — who have better memories than our local electeds — loses major ground. Not gonna happen, he told them.
"There is no appetite right now to deal with this issue in the Florida legislature," Bovo said.
"The sten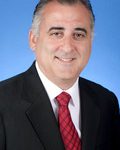 ch of the Marlins deal is in the pores of everything this issue is about," he had said earlier. "It's the 800-pound gorilla in the room.
"I don't want to skate around the issue: It was a bad deal. It was a bad deal because we were dealing with a desingenuous partner. I don't think that's the case here," Bovo said, referring to the two different fish and publicly appreciating the Dolphins' un-Marlinlike approach.
But not sufficiently to overcome the weighty public policy standpoint that seems suddenly sage: "Should we be taking that public money and putting it into private enterprise," Bovo asked out loud.
I knooooow. You almost don't want Bovo to be busted for his role in last year's absentee ballot fraud scandal because of the 160 or so ballots found on his office aide, right? Who is this guy? And where has he been?
Granted, there are differences from the Marlins debacle. These monies would come from bed taxes — "other people's money," as Commmissioner Barbara Jordan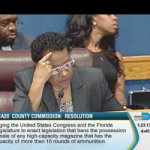 said, showing she has never had a staycation. And the Dolphins CEO Mike Dee seems to be more up front, saying the organization is willing to show their books and put "more" back into the community (even if it's $1 more). The tax rebate is a no-brainer, because the Dolphins are the only team, we are told, who doesn't get it. Just on discrimination alone, I'm going to have to go with that. Fair is fair. Even though it does take more money away from the state — which, in turn, will simply force legislators to take it away from education or transportation or senior services or something else.
But Bovo's public policy question is especially valid when you consider there are other things that just might be a higher priority than a popular NFL franchise that belongs to a millionaire, a private enterprise that can likely find financing and/or corporate sponsors to help fund what some might say are pie-in-the-sky dreams for the relatively new stadium (seems like it went up yesterday. Is this a never ending cycle?).
Several commissioners mentioned the convention center — a new buzz term that is apparently trending at County Hall — which, indeed, seems like a better investment with a bigger return. But Bovo scored yet more points with Ladra Wednesday when he brought up the water and sewer system. Not a sexy subject, but vital: Our water supply is woefully in danger if we don't do something to upgrade the consistently neglected infrastructure.
Either of those things would be a better use of an additional penny on bed taxes.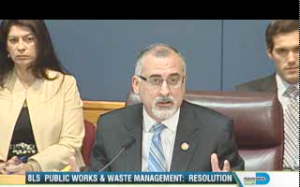 And an easier sell at the state level.
"If the legislature contemplates this, this is a last day bill, and it will be the product of all the wheeling and dealing in Tallahassee," Bovo said, emphasizing the if and projecting any possible resolution to come, if, in May — maybe too late for the stadium to be considered for Super Bowl 50, which is seemingly the fire behind the urgent sirens.
"The time factor doesn't work," said Bovo, adding that he would rather have Miami-Dade Mayor Carlos Gimenez — who is, admittedly, a different fish than Alvarez — negotiate a deal with more details that the commission could stand behind.
Jordan, who represents the Miami Gardens area where Sun Life Stadium lives, said their Golden Boy mayor could do that anyway with a yes vote.
"There's no reason why we can't move on a parallel course in terms of sending this up to the state while we negotiatie a deal," she practically begged.
"We're a little jaded because of what happened with the Marlins, but were talking about the Dolphins here," Jordan added. "A different kind of fish."
Well, actually, the team's mascot is a mammal.
But the deal still smells fishy.