Miami-Dade Commissioner Rebeca Sosa became more than just the first Hispanic woman to be named chairwoman of the board of county commissioners Friday.
She became the first chair to bring both a sitting U.S. Senator and a Florida governor to her swearing in shindig.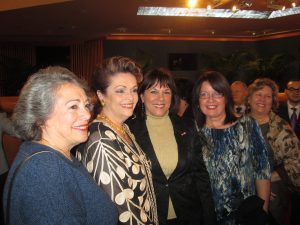 Talk about palanca.
Even Miami-Dade Mayor Carlos Gimenez, who vows to have a better relationship with Sosa than he did with former Chairman  Joe Martinez — like that wouldn't be a given — seemed a bit jealous.
"I'm really impressed," the mayor said. "You have a governor and a U.S. Senator here. I need tips on how to do that. Hopefully I can get them in 2016." Of course he was kidding. Nobody expects Rubio or the guv to come out for him.
And so what if Scott was in full campaign mode? Florida Gov. Rick Scott came to town to watch Sosa get sworn in by her old friend and colleague, Sen. Marco Rubio, a onetime VP hopeful and potential presidential nominee who began his career with her at the West Miami city commission. Well, he actually left before she took her oath. Guess it was really just to spew about Miami and Miami-Dade and how great we are (read: "vote for me.").
Scott did say a few words before he sneaked out of the commission chambers.
"Rebeca Sosa has been a friend from before I became governor, a great mentor before and after," Scott said, and then directed his comments to her. "It's going to be great to work with you. I know you  have high standards from Tallahassee and I hope to live up to those standards."
He called Miami-Dade Commissioner Lynda Bell Sosa's "sidekick" (I guess he didn't want to use my "bff" label) and said he relished the two women being in charge.
"I have daughters so I  like to see women running things," he said, before realizing what he said. "But not necessarily in 2014," he added, likely a dig at two  possible opponents in his race next year: Alex Sink and Sen. Nan Rich.
He also gave shout-outs to some of his GOP brethren in attendance: Sen. Rene "El Salsero" Garcia and State Reps. Erik Fresen, Eddy "Here Comes Hialeah" Gonzalez and Jose Felix "One More Pepe" Diaz. But he forgot to say hi to one of his local homeboys: Sweetwater Mayor Manny Marono, who campaigned with Scott side by side in 2010 (and could have used a current photo op for his re-election campaign this year).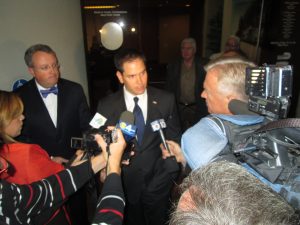 Rubio, on the other hand, did not talk. At the ceremony, that is. He gave several soundbites when he was besieged by cameramen just outside as he tried to escape. They asked mostly about immigration reform, in which he has a high profile role, and the proposed rescindment of the Cuban Adjustment Act. But he did mention his old friend when one TV face asked.
Saying he was honored to have been asked to swear in his old dais-mate, Rubio called her a "very responsible, very ethical person. Someone who knows and understands the community's needs and will always work for them."
Don't worry, Marco, the feeling is mutual.
"I just love him," Sosa told Ladra, shrugging her shoulders.
"He came one day when I was mayor [of West Miami] and told me he wanted to run and he said, 'Someone told me that if you don't help me, I won't be elected,'" Sosa said.
So she asked him why he was running. "And his answer blew me away so much that I left everything I was doing to go have a cup of coffee with him and the next day we were walking door to door," she added.
What did he tell her? That he remembered his grandfather's words about giving back to the community and making a difference. "What can I do in life to serve?" she remembers him asking.
"With that face, this guy — really a young boy, then — he got me."
And, so, Rebeca, you got him. Kudos.