You would think that in somewhere like Hialeah, where Cubans have flocked after fleeing the repressive regime on their island, the elected officials would be careful not to step on someone's freedom of speech.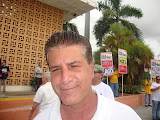 But Mayor Carlos "Castro" Hernandez has proved yet again that he deserves his nickname by acting like the dictator despot that he is.
It wasn't enough for Hernandez to investigate his nemesis and biggest critic, Fire Union Vice President Eric Johnson, for Slick's facebook page jokes — which were obvious jokes  to everyone, even Castro, who nonetheless saw an excuse to beat up on the fireman. It wasn't enough to suspend him for two days — as ridiculous in itself as that is — for then having responded to media calls after the mayor had a press conference to discuss the investigation before he even told Johnson.
No, now the city is instituting an social media policy that smacks of big brother. Called by employees the "Slick policy" after the rule's father, the four-page policy — which Ladra believes is up to legal challenge on first amendment infringment — is simply an attempt to make the harassment of Johnson look like legitimate governing. It is an obvious cover up of abuse of power and political retaliation. One of Ladra's preferred "handlers," Johnson is a longtime critic of Castro's administration. He supported both Miami-Dade Mayor Carlos Gimenez (he was still golden then) against former Hialeah Mayor Julio "Psssst" Robaina and former Hialeah Mayor Raul Martinez against Hernandez last year. He has battled the city on behalf of firefighter paramedics for years.
And, not to be forgotten, he was the first to blow the whistle on the widespread absentee ballot fraud and arguable elderly abuse in Hialeah. Remember, Eric is the man who hired private dick Joe Carillo to follow boleteras around and catch them red-handed in the act. They don't call him Slick for nothin'.
If it wasn't political, why didn't Mayor Castro investigate facebook comments made and tolerated on his Chief of Staff (read: lackey) Arnie Alonso's pag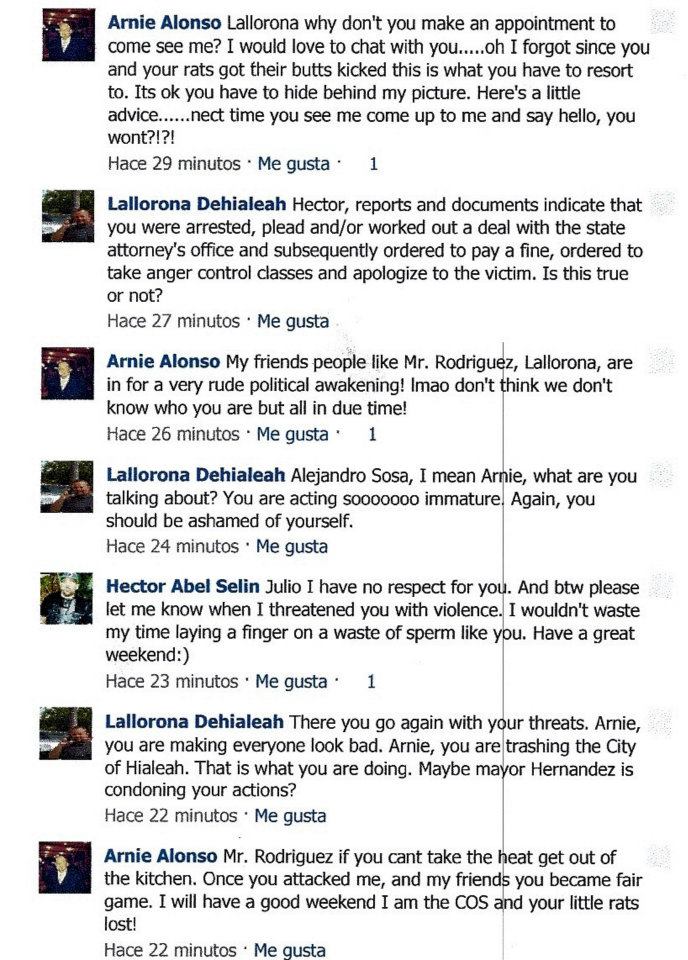 e, comments which are offensive and insulting and could be considered threatening to a Hialeah resident? Perhaps because Julio Rodriguez also happens to be a Castro critic? Comments captured on a screen save by the skinny crazy kid who wants to run for a city council seat next year (God love him), show that Alonso posted Rodriguez's picture as editor of the Hialeah Al Punto newsapaper and began attacking him and providing a platform for others — including at least one other Hialeah employee, parks and recreation worker Hector Selin  — to attack him with comments that not only indicate political intimidation but border on homophobia and hate threats. I only have the screen saves because Alonso has not accepted my friend request. We do not wonder why.
"Kudos to you for standing up to this pie-eating ass clown," Alonso writes in one of several strings to celebrate a friend's negative comment. "Let's take this guy down to Know Your Role Boulevard which is on the corner of Jabroni Drive and check him directly into… it doesn't matter what wants to check into. It sure heck won't be city hall a year from now. But hey, he's used to losing. He should ask his idle Raul Martinez."
In addition to the bad spelling and improper usage and the constant self-adulating use of his title "COS" (chief of staff/pat on the back), these comments seem to violate the new "Slick policy," which states: "Always be fair and courteous to everyone, including fellow employees, the public or people who work on behalf of the City. Also, keep in mind that you are more likely to resolve work related complaints by speaking directly with your co-workers or supervisor than by posting complaints to a social media outlet. You must avoid using statements, photographs, and video or audio that reasonably could be viewed as malicious, obscene, and threatening or intimidating, that disparage anyone, including  members of the public or co-employees, or that might constitute harassment or bullying. Examples of such conduct might include offensive posts meant to intentionally harm someone's reputation."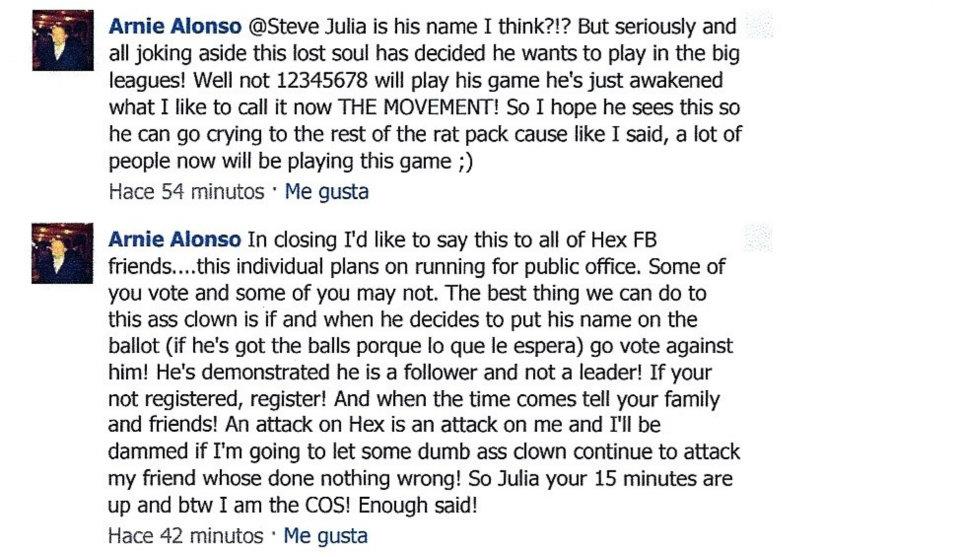 That looks like bullying and harassment to me.
But there is no investigation of these comments and there was after an "anonymous" complaint about obviously tongue-in-cheek photos of Johnson's kids during a vacation in Orlando? Rodriguez said he did report the incident to the Hialeah Police. But I suppose that these comments do not "embarrass" the mayor as much as Johnson's playful, harmless and, frankly, cliche jokes did. Puh-leez. Isn't the political motivation and harassment here painfully obvious?
Perhaps the better question is, why isn't any larger law enforcement or a justice department somewhere investigating Mayor Castro's repressive regime, his obvious abuse of power and his apparent use as of the police department as a political enforcement agency? Johnson has been told by the Florida Department of Law Enforcement that someone at the Hialeah Police department had been running his name through FCIC and NCIC for criminal background — possibly illegally, definitely unethically for political motives.
What kind of country is Hialeah in? Because, with Castro Hernandez in charge, it looks more and more like Cuba every day.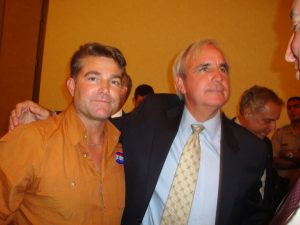 One would think that Miami-Dade Mayor (now) "Not So Golden Boy" Gimenez, a former firefighter who had the Hialeah firefighters — and, specifically, Johnson — waging war for him in the epic recall race battle against former Robaina would intervene diplomatically with his new friend. After all, what are evil alliances for?
But, alas, while the mayor knows fully well about the situation, he hasn't lifted a finger. Or, worse, he didn't have the pull. Hence the word "evil," alcalde. Worse yet, however, is that he doesn't try. Just as Ladra suspects he didn't intervene on Johnson's behalf when the firefighter was barred from the Hialeah event that announced the tainted endorsement for Golden Boy's re-election from Hernandez and the Seguro Que Yes Council earlier this year (another example of continued and documented political harassment that Johnson should speak to an attorney about).
Speaking of a bright side — and Ladra always looks for the bright side — maybe the Slick policy will have a silver lining. If Eric can't use his facebook page to poke fun at Hialeah's crazy political antics, on his own time, then Alonso and the other lackeys up Castro's backside can't use their taxpayer city time to comment on website stories about Hialeah's half-baked government or threaten people on facebook.
And, also, maybe Eric — who deactivated his facebook page in an abundance of caution so the mayor would stop targeting his family — can come back to the social network.
Ladra and all three of her facebook pages — which, luckily, no government or elected official can censure — miss him and his sarcastic remarks. Hope they don't stop.