Got the shakes yet? The sweaty palms?
Yes, Ladra knows what election withdrawal is all about. I've got it bad.
Now that we have been weaned off with the lingering Palmetto Bay and Doral run-offs, what is there left for campaign junkies like me?
Well, while we may have to wait two years for county contests and state races and a whopping four years — which seems like forever — for another presidential bout, there are scores of little interesting races starting up already. Small town politics are often the most fun — and the most frustrating — to observe. And we have more than a dozen to start looking at already, from Golden Beach to Coral Gables to, one of my favorite cities to watch, Hialeah.
Can we start now to recruit a good candidate to put up against Mayor Carlos "Castro" Hernandez? Yeah, he was just elected last year, but that was to fill out a term vacated by former Mayor Julio Robaina, who lost a bid for county mayor against Mayor Carlos "Golden Boy" Gimenez (he became "Not So" afterwards). Or maybe "good candidate" is too strong. Palatable candidate? Candidate with a pulse? Like Council Vice President Luis Gonzalez, maybe? His seat is up, too, and he is in good position to overthrow the dictator now. Gonzalez has taken a aggressive role, acting as president of the Miami-Dade League of Cities and sitting in the front row with Councilmembers Vivian "I'll Notarize That" Casals-Muñoz and Pablo "Pablitiquito" Gonzalez (no relation to the other elected) at the swearing-in of the county mayor and commissioners earlier this month. Ya la Vivian, a strong contender before this summer's Hialeah absentee ballot fraud scandal, esta muy dañada for my dream race between her and Castro.
A year from now (and November is always coming, isn't it?), we have a trifecta with elections not only in Hialeah, which can be hard fun enough to watch all by itself, but also in Miami Beach and the city of Miami — where Ladra has heard that Commissioner Francis Suarez does not run for mayor despite his father's best intentions (more on that later) and his hanging out lately with what seems like a campaign team in the making — Jesse Manzano, he of the Gimenez race this go-around, and former State Rep. Marcelo Llorente, ditto, but also his cousin. Does anyone else dare take on Mayor Tomas Regalado and his reign? There have been rumors that former Florida Sen. Alex Diaz de la Portilla would run for mayor in his hometown. The Dean pooh-poohed it in the past, probably because he was more closely considering what everyone says is an up-for-grabs Congressional seat now occupied temporarily by proud Congressman Joe Garcia, who beat former U.S. Rep. King David "Nine Lives" Rivera (Ladra can't bear rename him). But now that the Dean's brother, State Sen. Miguel Diaz de la Portilla has admitted to Ladra that he is looking at running in that seat (more on that later) — and, on second thought, it suits the eldest of the DLP boys more (there is a girl) — eeet eees pausible that the Dean would run for mayor. I'd ask him about it again, but he's MIA after losing unexpectedly to newbie lawyer Jose Javier Rodriguez in a house race. Not because he lost, mind you. He always takes a sabbatical after a campaign — win or lose. We'll ask him later.
Anyway, the Dean would be the cherry on top. Even without him, the Miami race has started getting interesting already. Miami Beach and Hialeah will surely be a barrel of fun. And Ladra may also take a walk around Homestead, just because it's there and seems ripe for political pickings.
But the very next first election is almost upon us: This January (who knew?) in Golden Beach, a tiny sliver of rich folk town at the border with Broward that Ladra knows nothing about — except that she wants to live there with the other 25 or so people. Does anybody know anything? Is that even a race when the voters can all fit in a living room? Comfortably?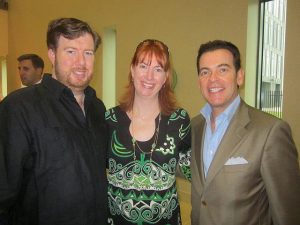 It could be markedly different (read: more heated and, thus, interesting) with the following elections in March in Hialeah Gardens and an April race in Coral Gables, where longtime Commissioner Ralph Cabrera is finally stepping up to his promised plate and running for mayor. Only one he's against so far is incumbent Mayor James "The Ambassador" Cason, who is the darling of the Cubans in the Gables (who need to wake up and smell the cafecito) and City Manager Pat Salerno, who isn't on the ballot perse but is working actively against the commissioner. (More on that later, naturally.)
April campaign mailer showers will fall in Miami Springs, Miami Shores and Bal Harbor Islands — three tiny towns where the politics is probably hoppin'. Ladra will have to start taking walks around there, too. In May, robocalls will bloom in North Miami and North Miami Beach — where our friend and fellow watchdog Stephanie Kienzle of www.votersopinion.com will have a handle on things, I trust, and Ladra will point you to it, often I bet — as well as Sweetwater, where I wonder if anyone (read: hope someone) dares to try to unseat Mayor Manny Maroño, who I hear has an inside track on absentee ballot operations (read: his mom, Councilwoman Isolina Maroño, who helped collect ballots for none other than Gov. Rick Scott).
Then there's another drought until the fall municipal elections in Virginia Gardens and the primary in Homestead, which is another one to watch. Then November offers us a lot of activity with the aforementioned Big Three plus Homestead.
But even after that, we still have one little gift to look forward to in December with Biscayne Park. Ending 2013 as we began. With a tiny town that I know nothing about.
Then we do it all again in 2014 when the state races and the even numbered seats on the county commission are in play.
Oh, and a little thing called the governor's race. Actually, that could be starting already (more on that later).