There were a whopping eight people sworn in during the Miami-Dade Mayor and Commission installation Tuesday. But, while everyone graciously thanked their staff and friends, and their families and supporters, only two speakers really shone: Commissioner Dennis Moss and freshman Commissioner and former State Rep. Juan C. Zapata.
The longest serving commissioner and the shortest serving one.
Everyone so far agrees that Moss hit it out of the ballpark — or his pet project Arts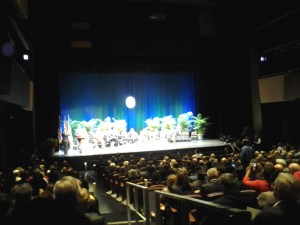 Center, as it were — with his not-so-veiled references to Norman Braman and the multi-millionaire car dealer's greedy grab at the dais, pitting four candidates against incumbents, including one against the veteran commissioner, first elected in 1993.
"This election has special meaning because democracy won out. This proves that the people in District 9 of Miami-Dade County are still in charge," Moss said, never naming the car-mogul-turned-meddler by name — but we know who he means.
"District 9 and the people of Miami-Dade County are not for sale," Moss said.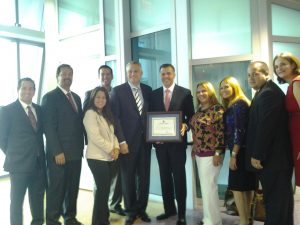 Zapata went head on into testy waters that tried to drown him in negative campaigning during his race when he brought up his father, whose role in and arrest related to money laundering were constantly waved by his opponent, Miami-Dade Police Det. and puppet boy Manny Machado, and the puppeteer and Zapata arch-nemesis, State Rep. Frank Artiles, who had his own Tallahassee swearing-in to distract him from his crushing defeat despite suspected ethical lapses that go beyond the skirting of residency requirements (Ladra loves to bring that old stuff up. You can't rewrite history).
Apparently, Zapata knows that. So he decided not to even try when it came to his own family's blemish, with the wound freshly opened from the race.
"Next week, it will be three years since my father passed away. And though he was an imperfect man, he was a perfect father," an audio-visually emotional Zap said.
Classy, too.
"I thank him for bringing me to this country," Zapata said, barely holding back tears.
Zapata said it was "an honor to be the first Colombian-American" elected to the county commission. "I hope that my election encourages more in the Colombian community to run for public office," Zapata said, and we are pretty sure he was not referring to one-time Congressional and one time Commission candidate Annette Taddeo (who, las malas lenguas dicen, may give it a third try in a couple years).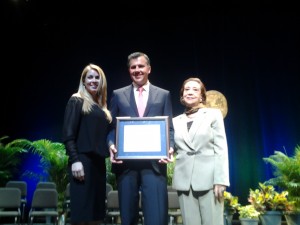 He also was a class act, thanking his girlfriend, Natacha Munilla, who Zapata started seeing recently and whose family threw themselves into his campaign.
"And as great as it was," the newly-minted commissioner said, "I don't recommend courting a woman and running for office at the same time."
Everybody with me: Awwwwww. He said courting.
Zapata was the classiest and most elegant, actually, also taking time to thank outgoing Commission Chairman Joe Martinez — who lost less narrowly than expected to Mayor Carlos "Not So Golden Boy" Gimenez in the primary — and State Sen. Miguel Diaz de la Portilla, who was the county commissioner before Martinez, for representing the community before him.
I told him that whoever wrote his speech did a great job and Zapata told me he wrote it himself on his Blackberry. That he started Sunday and finished last night — you can't imagine the number of phone calls a new commissioner gets — and that he didn't share it with anyone until he was on stage and shared it with everyone.
"I wanted it to be something people got to know me as a person by," he told Ladra later Tuesday night.
It wasn't exactly a laugh riot and, in fact, provoked a few tears in the house.
But there were other funny things said Tuesday, so as not to dis the rest of the dais, let's summarize the best soundbites from the bunch.
Barbara Jordan: "I noticed that the pastor and the mayor came up to do their speeches with an ipad; well, I need a stone tablet to do mine."
Audry Edmonson: "Good morning, and I promise I will keep it under two minutes," she said, referring, no doubt, to the Jordan's previous speech of 8+ minutes, when the members were asked to keep it to two minutes.
Bruno Barreiro: "Congratulations also to Mayor Dennis Mo… er, Commissioner Dennis Moss." Um, is that a Freudian slip? Does Bruno know something we don't?
Xavier "Mayor Commissioner Sir" Suarez: "Last time I spoke for 15 minutes so I guess I used up 7 1/2 installation ceremonies in one shot."
Esteban "El Bobo" Bovo: "Clearly through the grace of God I stand here before you today. It has been nothing of my doing. Clearly of his doing." Maybe his prayers have held off arrest for AB fraud connected to the 164 ballots in the August primary collected at his Hialeah district office. Or maybe it's really intervention from a less divine direction.
Mayor Gimenez, who like  Suarez and Bovo — both of whom had no opposition — was really elected last August in the primary, didn't say anything Earth-shattering. He thanked his ever-expanding family over and over again, as usual, and calling his wife Lourdes his "secret weapon" again.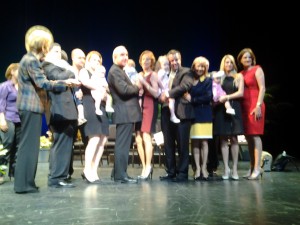 He thanked others –his campaign team, his supporters "for lifting me up and sticking with me through thick and thin," his staff and the people of Miami-Dade County "for once again entrusting me."
And he talked about public service and his four years (more on that later). "I intend to make the most of my time in office." He gave a nod to the county employees he is constantly kicking in the, er, chin and pledged to respect the taxpayers' hard-earned money.
In a speech that seemed more like a warm-up to a Beacon Council breakfast, Gimenez also talked about "fundamental, big picture issues" that will loom over us long after his term is over (huh? more on that later). "After several challenging years I see brighter times ahead. It's time to chart a course for our future… I intend to elevate our community and position it among the ranks of the world's leading global cities," the mayor said, naming New York and London as models.
But some of his funniest moments — and, yes, he can have them from time to time — came when introducing the speaker of the day: Moss.
"And also congratulations on being the world-record holder in commissioner," Gimenez told him. "I don't think anyone is going to beat you. Not now," he added, referencing the term limits that were passed by voters Nov. 6th. Even if Moss doesn't go for or win another term for his eight allowable years as of now, there's no way any of the sittings can catch up to him.
Moss mentioned the measure also: "If we had term limits when I first ran, we might not be in this building today," he said, referring to the newly-opened South Miami-Dade Arts Center, for performance and cultural events in a community that sorely lacked it.
Hmmmm, think they're bitter about those term limits?
Let's see if it lights little fires under their, er, feet.