Now that Miami-Dade Police Det. Manny Machado lost his bullish bid to become county commissioner, let's hope the police department investigates his tactics — which are unethical and misleading and not what one wants of their law enforcement officials. Can you say Internal Affairs?
Let's f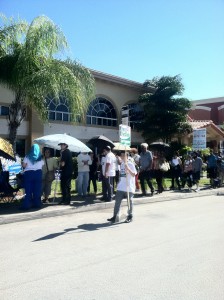 orget, for a moment, that Machado — who thankfully lost handily to former State Rep. Juan Zapata Nov. 6 — won't answer legitimate questions and that he and his wife use their law enforcement status to intimidate and bully anyone who won't support him.
Let's forget, for a moment, the negative mail attacks that he wouldn't even sign his name to that were unproven aspersions and outright lies.
Let's forget, for a moment, that he had (or at least allowed) one of his four supporters to harass Ladra (as if that was easy) at an early voting site and follow her around video taping her in an effort to make her go away (as if that was easy).
Let's forget, for a moment, how he may have taken money meant for the Mitt Romney campaign from his friend, State Rep. Frank Artiles, and may have issues with how he uses his finances.
Let's just focus on one dishonest, sneaky tactic. Focus, if you will, on these two photographs of the same guy.
In one picture, he is wearing a Machado shirt at the county library on Hammocks Boulevard, just one of the many minions he had milling about — as unhappy as he may seem about it.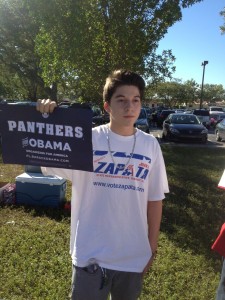 In the second picture, the same Machado team member is at the West Dade Regional Library on Coral Way — this time wearing a Zapata shirt from a previous campaign and holding a Panthers for Obama sign in an obvious attempt to taint the front runner.
Desperation is an ugly thing.
And while it's not illegal, it is certainly unethical to allude that your opponent, a Republican, supports the Democratic demonized candidate in order to take away some votes. Is that the only way to victory for Machado,  who went after the seat vacated by Miami-Dade Commission Chairman Joe Martinez in his failed bid to unseat Mayor Carlos "Not So Golden Boy" Gimenez? Is that how he handles his investigations, as well? Should we question all the evidence in his police cases?
Machado won't talk to me — and, I suppose, with good reason since I suspect him of being unethical. But I've got a call in to the police department.
And a picture is worth a thousand words. So, I suppose, two pictures are worth more.