President Barack Obama is not the only one sweating it out these last few days before Tuesday's big dance. King David "Nine Lives" Rivera is in the fight of his life to keep his throne.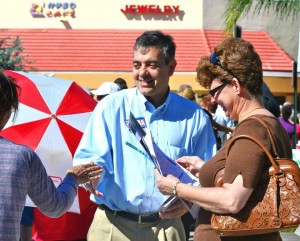 The congressman is used to coasting back into office on the backs of his adoring fans. But this year, the build up of yet another scandal — thus his nickname — during a heavy turnout presidential year where Democrats are drumming up the vote has him fighting tooth and nail for every vote.
He may be the quintessential workaholic politician, but Ladra has never seen Nine Lives stump this hard (even though he says he always works this hard in every election).
Rivera spent every day of early voting at the West Kendall Regional Library on Hammocks Boulevard, shaking hands and posing for photos with his public — and with former Public Service Commission Chairman and perennial candidate Joe Garcia, his nemesis, hovering nearby as well. Both have the redneck tans to prove it. Garcia has nearly lost his voice.
Garcia, who is blamed for the crumbling of the Cuban American National Foundation and lost against King David two years ago, believes his chances are better this time around because of the headlines regarding Rivera's reported ringer, an unknown candidate who was allegedly thrown into the race and funded by the King to thwart Joe's junk. Justin Stenard, the alleged plantidate, has pled the fifth in the case, which is helpful to Rivera. And it may take several months before the entire mess unravels and ol' Nine Lives — who Ladra believes is completely capable of this kind of stunt and, in fact, may have done it before — gets any kind of official flack in the form of an indictment (unlikely, given his ability to land on his feet, like a cat) or whatever (more likely a much more respectable early retirement or something).
Because there is no doubt that some damage has already been done. Even the Republican Party has been reviewing their bench for potential replacements in that seat.
"You can google him," Joe Garcia told one voter that asked who he was running against. "That ought to be enough," he added, as he went through the hundreds-long line that had the seemingly majority Democrat crowd waiting for five and six hours, at times, to cast their ballots.
This congressional race may very well come to that precinct, the West Kendall Regional Library, which is another bellwether district with almost a third of the voters identifying as Republicans, a third as Democrats and a third as Independents. Like other races, including the presidential election, this contest could depend on how the NPAs sway. And those coveted Hispanics. Rivera has the Cubans down, pretty much. And he is winning a lot of the non-Cuban Hispanic vote (read Colombian vote) thanks to a TV commercial done by one of the Dreamers that would benefit from the Dream Act he supports.
"This is a swing district," said Javi Correoso, Rivera's right hand man and the campaign manager. "It's going to be close. It's a presidential year and, while it's not 2008, the Obama machinery is turning out more voters than in a usual election."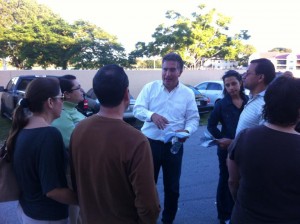 That's why both candidates spent every day of early voting at the Hammocks site and why Ladra predicts they will be parked there on Tuesday, as well, while they have surrogates stroll about the other polls.
Frankly, I hope the King keeps his crown. Not only because he's a lot of fun to write about, sure, but also because I do believe he is the right man for this job. Sure, he may play dirty politics in a campaign. It's only because he can't imagine doing anything else. But he's good for us in Washington. While Ladra had her complaints about Nine Lives track record in Tallahassee, I have almost entirely supported his work on The Hill. Especially on international matters and Cuba, where Garcia me da mala espina.
In the early voting procession, Rivera made the deficit and the growing national debt the gist of his talking points. But in this interview last month with Maria Elvira Salazar, the congressman — who has rightfully proposed amending the outdated and abused Cuban Adjustment Act so it doesn't become a revolving door tool for tourist dollars to fund repression — made Garcia's ties to Cuba almost the entire subject of the chat.
"It's ridiculous," Garcia said. "I think he's desperate."
But maybe King David is just smart. You don't become the king being dumb. This could be a good move in a district where a lot of the motivated Republican voters — and even some of the Democrats — are staunchly anti-Castro. And in a year when King David is facing his first real challenge, it serves as a message that sort of says, "Yeah, he keeps getting into it — y donde hay humo, hay puro — but the alternative is a communist-loving scoundrel and we can't let that happen." Garcia may not be so communist (really, who still is? That argument, even with Obama, is counterproductive), even though he has advocated for lifting travel restrictions and the embargo.
But Garcia has received campaign contributions — again — from travel agencies and businesses with exclusive contracts to trade with the repressive Cuban regime. These include people like Tessie Aral, owner of ABC Charters ($2,000), Armando Garcia, president of Marazul Travel ($5,000), and "art consultant" Ramon Cernuda ($2,000) — all of whom lobby for eased relations with the repressive regime in order to fascilitate more commerce with Castro. Ridiculous? Try again, Joe. Ladra is fond of that word and uses it often, but it would not be appropriate in this case. What is ridiculous is your trying to distance yourself from obvious Castro-friendly funds. The reports are clear.
And while Ladra (disclaimer warning) is also against any travel restrictions, albeit for other reasons (and not necessarily for tourist jaunts disguised as faux "cultural trips"), she is not for the unilateral lifting of the embargo, as fake as it is, if only because it sends the wrong message to the world and the Cubans fighting the regime on the island.
And, anyway, I don't like my congressional candidates to be so cozy with Castro apologists.
I also wish Garcia could stand on his own. This is the closest he's gotten after three past tries to being elected and it's because of the blaring negative headlines not because of any brilliance of his own. Add to that the fact that even the blaring negative headlines might not guarantee him a win. That does not bode well for a future would-be congressman.
While polls are split on the potential results — Garcia's has him up by 7 points, Rivera's has him up by 5 points (even though that was three weeks ago) and a St. Pete Times poll has the King up by 4 — Ladra thinks it will be closer than King David would like. That district was won by Sen. John McCain in 2008, if even by one point, and is expected to be won by Mitt Romney this year, by a wider margin.
So maybe King David's nine lives are not all used up. You don't become the King for nothing and Ladra believes it takes a little more than a few bad headlines and a missing political consultant and rumored ex lover to get Rivera down (and, damn! I forgot to ask him where Ana Sol Alliegro was). He has a very good chance of eeking this one out and making a jester of Garcia, maybe for the last time.
But, knowing Joe, maybe not.