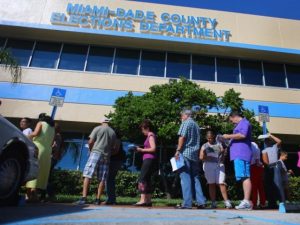 Hundreds of voters lined up outside the Miami-Dade Elections Department Sunday to cast their vote via absentee ballots they could request and turn in on the spot.
But they almost couldn't.
After about two hours of processing during a four-hour window that was announced suddenly early Sunday, elections officials came outside and announced that the government office would close and those still standing in line had to go home. The reason: They were overwhelmed.
But the closure only lasted about half an hour and people were still standing in line to vote after the last person was counted at 5 p.m.
Elections Department Spokeswoman Christina White said that the office would be open from 8 a.m. to 5 p.m. Monday and until 7 p.m. Tuesday to do the same thing.
"We had the best of intentions," White told me about the short interruption. "It was not an easy message to deliver. But we did not expect quite this turnout. We have a small lobby and one ballot on-demand printer. We didn't have enough staff."
The county got an addition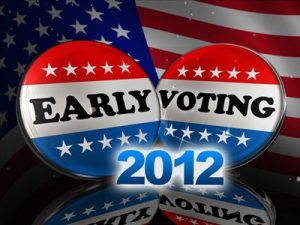 al printer, opened a voting room with privacy booths and reassigned staffers that were in the back of the warehouse, sorting absentees and getting machines ready for delivery on Tuesday, she said.
"We didn't want to turn them away. We didn't want them to not vote," White said outside after announcing that the voting would continue. "We are just asking for their patience. We are not well equipped for this."
She said they were not equipped at all to offer the AB request service at the early voting locations, which is what seemed logical to Ladra. I mean, they had the on-demand ballot printers there, staff, privacy booths to fill them out. Why not just have the AB voting allowed at the early voting locales? "We didn't have the manpower or equipment for that," White said. Seems it would have gone better than how it went today at the elections department.
To be fair, our local elections supervisor did not even have to open the office up at all for this Sunday. It was at her discretion. White calls it a courtesy. Which proves that no good deed goes unpunished.
"Let us vote! Let us vote," shouted the mostly Democrat crowd, egged on by the Obama Biden campaign people there, all of whom had one conspiracy theory or another, even suggesting that Miami-Dade Mayor Carlos "Not So Golden Boy" Gimenez had intervened and shut the process down. But I told them, Gimenez loves absentee ballots. He'd be all for this.
Democrats had also complained loudly about the fact that the only location available for this "in person absentee vote" was at the Doral elections office, in the middle of several Republican stronghold neighborhoods. But the crowd in line on Sunday was far more blue than it was red. So Ladra doesn't know what they're complaining about. And it seemed unlikely that elderly Republican voters from Hialeah or Little Havana would show up.
On Sunday, anyway. Tomorrow is another day.
Republicans can mitigate this Dem leverage on Monday if they are smart and identify voters that they can motivate to go to request their ABs. They don't even have to fill it out there. The ballots can be taken home to fill out and then dropped in the Absentee Ballot box at anyone's local precinct.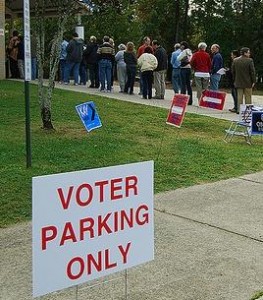 The move was made after several days of hours-long waits at early voting locations throughout the county. "Just the turnout has been so tremendous," White said. "We did this as a courtesy."
It also provided a couple of candidates with another opportunity to reach voters. But few took it. Miami-Dade Police Det. Manny Machado, who is running for the county commission seat vacated by Chairman Joe Martinez against former State Rep. Juan Carlos Zapata. Doral Councilman and mayoral candidate Luigi Boria was there in his convertible Mercedes Benz (I like the Maserati better). And Alex Diaz de la Portilla's people were there with signs. But that was it.
When I asked Jeff Garcia, an Obama guy also working for Joe Garcia's congressional run against King David "Nine Lives" Rivera, where Joe was — this would be a natural photo op for him — he told me the candidate was at the Homestead Air Show, stumping for votes there.
Garcia's mom and grandmother were there, though. Carmen Garcia took Angelica Acosta to vote — for Joe, of course. She lives in the district.
Jeff Garcia was one of those who complained loudly about the momentary closure and chaos that ensued.
"Half the people left," he exaggerated. "Something about logistic issues, not enough printers. Please. Either do it or don't do it. But this gives us no confidence in this election."
Ladra bets, however, that he and the other Dems would not be saying that if the polls were reversed and showed Obama winning Florida instead of losing.