It was no surprise to anyone to learn this week that both Miami-Dade Commission Chairman Joe Martinez and the county's Property Appraiser Pedro Garcia filed court challenges to the Aug. 14 election that was tainted by absentee ballot fraud that is known and public and investigated.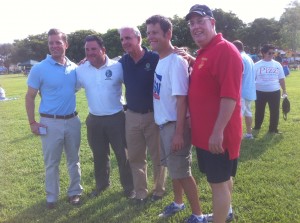 Garcia lost to termed-out State Rep. Carlos Lopez-Cantera solely on the absentee votes and Martinez would have been in a runoff against Mayor Carlos Gimenez without the ABs, which the Golden Boy still insists he had nothing to do with (read: plausible deniability).
Ladra fully expects the ABs to be thrown out of the results and those two races to be up for grabs again. Or maybe for the first time.
But what did surprise me this week was the measure made at Hialeah City Hall Tuesday night by none other than Mayor Carlos "Castro" Hernandez, who is taking on the role of Absentee Ballot King from his mentor, former Mayor Julio Robaina. After all, Castro comes from a long line of people who perfected the crime of AB fraud.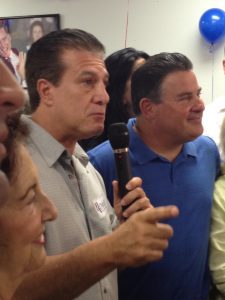 Miami Lakes Mayor Michael "Muscles" Pizzi — who has Absentee Ballot Queen No. 1 Sasha Tiradorworking on his campaign — also had a proposal approved by his city council that would have the city pay the cost of a stamp for absentee voters. Pizzi thinks that will help. "If we pay for the stamps on the envelopes and make it clear to the voters they have no need to hand their ballot over to a boletero, maybe this won't solve the whole problem but at least it's a step in the right direction," Pizzi said to the Miami Herald.
It's a step in your campaign strategy: Make people believe you are a reformer. Because that will do almost nothing to stop the absentee ballot fraud, which is just the tip of the iceberg on different kinds of fraud and is an organized ring with lists and people who will stop at nothing to steal votes. Because that's the only way some people can get elected.
Hernandez proposed something similar and also that the city ask state legislators to bring back the witness signature on the envelope that was never verified but can help law enforcement flag fraud if, say, 600 ballots are signed by the same witness. Because that's either a boletera or a very, very helpful neighbor. And he wants the state to make it a Florida law that nobody can carry more than two ballots. Right now, that's just enforceable in Miami-Dade.
Both men are trying to gain some hero status from their proposals, which come after two people in Hialeah — including Sergio "El Tio" Robaina, uncle of the former mayor — were arrested on allegations of ballot fraud in separate incidents. Deisy Cabrera, 57, and Robaina, 74, face felony charges after they were found to have actually tampered with ballots in separate cases under investigation by Miami-Dade police. Dozens of voters (which means that law enforcement and reporters have not talked to enough people) describe the two as long-times ballot-brokers who routinely dropped by their homes during election cycles to help fill out ballots and take them to the post office.
"It hurts me that this ballot scandal has occurred in our city. This affects the good image we've been building over the past six years," Hernandez was quoted as saying in the Herald.
But these people, as the investigation shows and will continue to show, have been operating like this for years. More than six years. Under the direct knowledge and, perhaps, instruction of Hernandez and his cronies.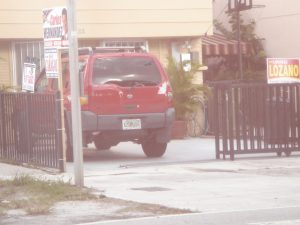 Did Castro Hernandez care about that city image in the last six years, as he hired his favorite boletera, Emelina Llanes, to pick up ballots for him and his hoodlum crew of Seguro Que Yes council members? Did he care about that image when she used his car — or his wife's red SUV registered to a blocked person because he's a former cop — to pick up those tainted ballots?  In his car?
Talk about los pajaros tirandole a la escopeta.
Don't believe the hype, people. These two are trying to stay out of the fray but they can't. They are trying to make a media moment for themselves out of this scandal, because they know it's going to stay in the news for a while. While Pizzi has battled AB fraud before, he hired Tirador, which can only mean one thing. He wants ABs for himself now.
But Castro is the biggest hypocrite in this. He cannot pretend that Llanes is not his favorite boletera and that he doesn't know what she does (like Golden Boy claims about Cabrera, who was caught picking up ballots for him and who knows who else?).
"Instead of spending thousands of dollars on sample ballots, the Elections Department should invest that money in making the envelopes have pre-paid postage," Hernandez told the Herald. "That would keep people from trying to get close to voters with the excuse of giving them free stamps."
Um, is he hitting at the firefighters in the city, who gave away free stamps in public housing during last year's recall mayoral race? Yes, I do believe he is. He accused them in November of AB fraud. Deflection. Misdirection. Call it what you will. It's a lie.
Stamps will not prevent little viejitos who are used to giving Miss Deisy and El Tio their ballots from handing them over again when the time comes. It will not prevent their campaigns from requesting absentee ballots for voters they know they can then go back to and collect.
Well, at least Hernandez and I agree on one thing.
"If something positive can come out of all this," he was quoted as saying in the Herald, "it's that we're going to be pioneers and create the necessary changes so that this kind of scandal never again takes place in our city, county or state."
Another side benefit that could come out of all this is that he is never again elected in our city, county or state.