Ladra woke up late and apparently already missed some Election Day antics in Hialeah.
A little birdie told me that Hialeah Mayor Carlos "Castro"  Hernandez has already started harassing the campaign volunteers and workers for School Board Member Renier Diaz de la Portilla, who is running for a state house seat in 103 against school administrator Manny Diaz, Jr., who is backed by the tribal Hialeah politiqueria.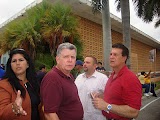 Castro Hernandez, which I think is starting to catch on since that's the name the little zunzun used, apparently had the police ask some workers to take down two big Diaz de la Portilla signs they had put up overnight. Then, after, they told some of the poll workers in DLP t-shirts to move. I'm not sure why yet. But I'm not surprised at all.
What surprises me is that the little birdie would be.
Big brother extraordinaire, former Sen. Alex Diaz de la Portilla — who has his own race as a side thing in house seat 112 — seemed a little too outraged about it, also. I mean, what did he expect?
"Do they believe they are in Cuba? Where harassment and intimidation are the order of the day," the Senator asked Ladra. "They will soon find out they are sorely mistaken."
Um, yes, they do think they have their own little dictatorship there, which is why I call him Castro. Hellllooo? Do you not read Political Cortadito? Do you think I'm kidding? I'm not even exaggerating most of the time.
This is part and parcel of their public castration, er, I mean administration. They target people for supporting political opponents. They use the police department like their personal security squad of enforcement goons and have critics followed and investigated for no reason other than political retaliation. They follow and intimidate. They block journalists that call them on their crap from public events just because they can. And they issue illegal trespass warnings to those who dare try to expose them for the charlatans they are.
Castro and his cadre of crooks use the police department as it if were their own private and personal security squad of G2 goons. And, the other criminal part is, the officers — who are sworn to uphold the law — do his bidding and are incapable of telling him they won't follow an illegal order. The Miami-Dade State Attorney's Office and the FDLE are well aware of this as people other than seasonally outraged politicians have been complaining for months and years.
Diaz de la Portilla told me his people or his brother's people (read: same thing) were not moving and the signs were not coming down unless Castro and his cops took them down himself. At which point, I trust, Baby DLP or one of the cult followers will snap a picture with their camera phone. Good for you, Dean. What gumption!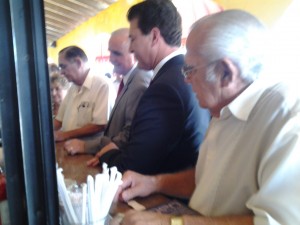 Too bad that gumption has been missing not just from my favorite local Cuban pol to love and hate — because, really, this is the first DLP foray into Hialeah and I have high hopes of the righteous Renier DLP when he wins hands down and has Hialeah in his district — but mostly from the other Hialeah establishment that has done nothing to curb the Castro dictatorship in the City of Progress. People like former State Sen. Rudy Garcia, who knows exactly the kind of man Castro Hernandez is and also made a deal with the devil after he lost his miserably doomed bid for mayor and endorsed him rather than stay out and stay clean. People like Sen. Rene Garcia, the freaking chairman of the state's Hispanic Legislative Caucus, who was at the announcement of the evil endorsement between Castro and Miami-Dade Mayor Carlos Gimenez where Ladra was singled out as the only reporter blocked from entering. He told me the next day, at some domino tournament for the Hialeah-Miami Lakes Republican Club, that he couldn't believe they had done that.
"How can he get away with that kind of thing," the Senator asked me, seeming genuinely astounded.
"Because you and people like you let him," I answered, and if you don't believe me ask some of the other people there, like Miami Lakes Councilman Nelson Hernandez or Manny Cid, aide to State Rep. Eddy Gonzalez, who wasn't there and was probably out collecting absentee ballots. They too have been enabling Castro since su alcaldito took the reigns over from the man who controlled them before that, former Hialeah Mayor Julio Robaina, because whoever is in that post apparently controls them because he controls the absentee votes from the public housing in Hialeah.
The Senator's eyes widened. Guess he didn't expect me to be so blunt. But I went on.
"You and Eddy and Rep. Jose Oliva and Mayor Gimenez and everybody else that just lets him walk all over people without saying anything, ever, when you obviously can and would make a difference."
Let's just say the conversation got quiet and we moved on to another subject.
But I suspect we will hear lots of complaints about Castro in the next few days as early voting intimidation continues and maybe through Aug. 15. But after that, I suspect we will hear nothing. We will go back to the days when leaders, real leaders, sit idly by and allow this man to walk all over and run over people.
After Aug. 15, I suspect Castro Hernandez will become somebody else's problem again. Mine.