A decent crowd of more than two dozen people showed up to the Hialeah Miami Lakes Republican Club Guayabera & Domino Night social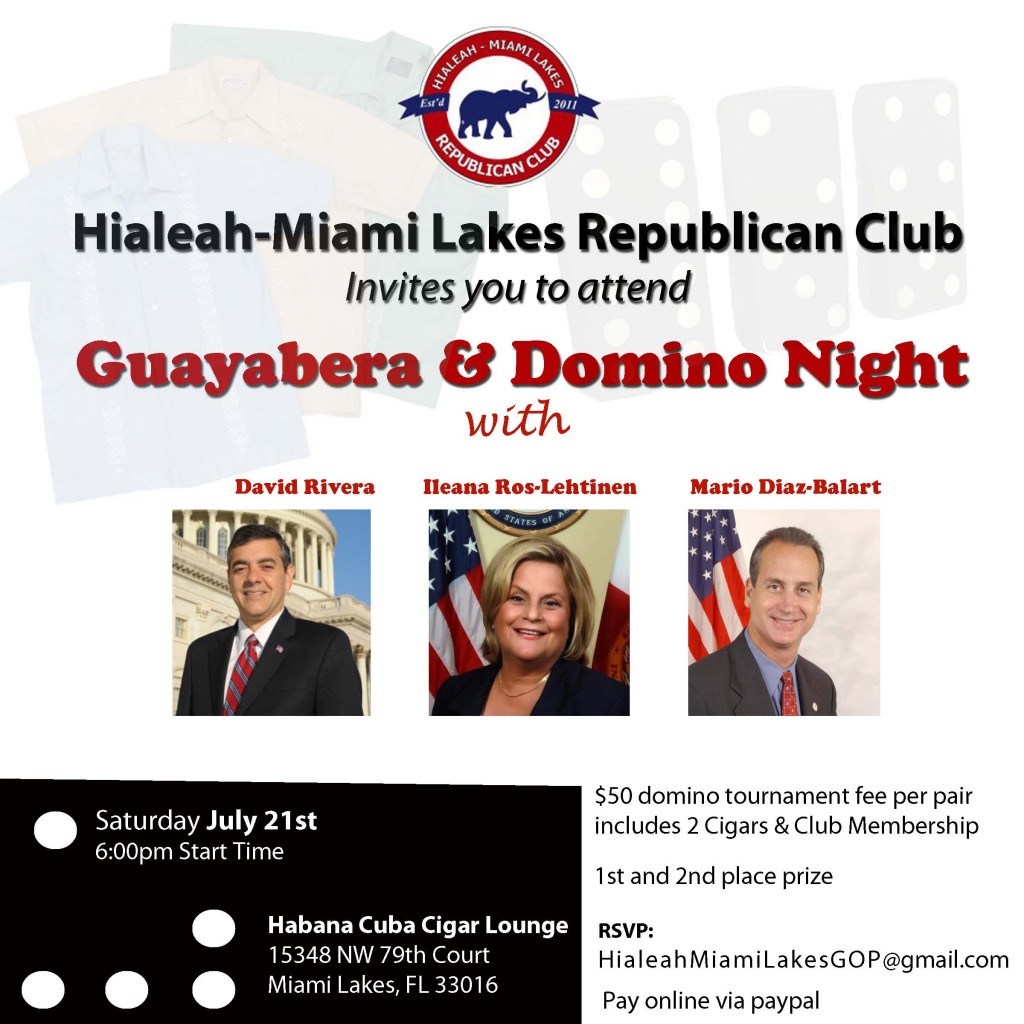 fundraiser Saturday to darle agua a las fichas and rub elbows with the Miami-Dade Republican Congressional Three Amigos: Ileana Ros-Lehtinen, Mario Diaz-Balart and King David "Nine Lives" Rivera.
Except none of the Cuban-American U.S. reps were there to enjoy the tournament, stogies and bocaditos at the Miami Lakes cigar store.
"Something happened with an event in the Keys," said HML Republican Club president Manny Cid, an aide to State Rep. Eddy Gonzalez, who also didn't show (but not for the same reason, Ladra suspects). "Something federal. Something important that they had to go to."
It does look, from the activity on Ros-Lehtinen's twitter feed, that there was some CBS special with the three Congress members on the fight to save Aquarius Reef Base, the world's "only undersea research station," located in the Florida Keys National Marine Sanctuary. And it does look like it was a last minute thing and that Ros-Lehtinen had every intention of being in Miami Lakes — indeed, that she had checked her closet for the requisite wear.

"Count on me 2 wear my guayabera 4 HialeahMiamiLakesGOP Club's Guayabera + Domino nite this sat July 21st," wrote @RosLehtinenCamp on Tuesday of last week.
But weren't the club boys disappointed?
"I gotta understand," said Cid, who dropped his possbile bid for a council seat in Miami Lakes after some pressure. Well, that's what las malas lenguas dicen, he says it was just not time (more on that later). He added that the club was going to have more domino tournament events because this one went well, regardless of the stars' absence.
"And we're going to schedule another one with them," Cid told me.
Maybe the club kind of owes it to anyone who went and paid $25 to lay tiles against a Diaz-Balart or a Ros-Lehtinen. Heck, I'd pay twice that to beat King David y dejarlo gordo. After all, the event was advertised heavily as a hobnobber with the hotshots, as illustrated in this graphic from the invites. "It is going to be full of fun, dominos, entertainment, cigars and food. Join us with Congresswoman Ileana Ros-Lehtinen, Congressman Mario Diaz-Balart and Congressman David Rivera," wrote HML Club Membership Director Joseph Sosa in an email reminder Thursday.
Sosa was also unfazed by the last-minute change in plans. "They had another event that they could not miss and David sent a representative," Sosa said. "We had a good turnout. And we're having another one."
Ladra hopes the other one is back at the Havana Cuba Cigar Club in Miami Lakes, the one next to the Latin American Cafeteria where I once happened to overhear a now-famous breakfast conversation between recalled former Miami-Dade Commissioner Natasha Seijas and her successor (read: traitor) Esteban "Peevie Stevie" Bovo. The place is intimate without seeming small and the Tiki-like bar at the end, wood all around, permeated puro aroma n the air and wall-to-wall cigar boxes makes any cubanita or cubanito feel right en su casa.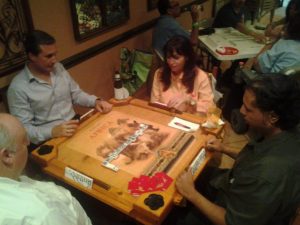 Just ask State Sen. Rene Garcia, who in the past month has become the most Cuban Florida legislator Ladra knows — with a Hialeah barbecue for 1,000 or so of his closest friends, un guaguanco bien bailado (more on that later) and, now, domino playing. "I've never been here before. I could have a fundraiser here, " Garcia said, and then before Ladra could finish reminding him that he coasts in this year unopposed, he added: "Next year, chica."
And, especially for such a fat-ballot election year, the event was conspicuously, almost-completely free of candidates. Can you believe not one single judicial wannabe was there? Gineen Breeso, who is one of five Republicans in the primary to go up in November against U.S. Rep. Debbie Wasserman Schultz and Doug Harrison, who is the only Republican running for state House in 104, which covers Pembroke Pines, Weston, SW Ranches and Davie, each stopped by. And, okay, maybe we didn't have the Diaz-Balart brothers but we did have Miami-Dade Community Council member Ira Paul, who is also running for re-election. In a crisp, white guayabera playing and beating the Cuban senator.
Garcia — who chairs the state's Hispanic Legislative Caucus and ended up being the biggest fish at fete — said he was glad the event was low-key and light for a change. "It's nice to see people in a natural setting, not the shirt and tie thing, like usual," said Garcia, who wore a shirt and tie the day before to the announcement of the unholy alliance between Miami-Dade Mayor Carlos "Golden Boy" Gimenez and Hialeah Mayor Carlos "Castro" Hernandez.
"It's great to be able to come and socialize and talk about issues at the same time," Garcia told me.
A lot of the HML Club events are political — meet-and-greets with candidates, scare-the-pants-off-you doom-and-gloom forecasts from political consultants like David Custin. Cid told Ladra the domino night might have seemed like it was promoted as a high-profile, star-studded fundraiser but it was really just a social affair.
"It's about meeting more people and getting to know each other. We're going to have a series of the," Cid said.
Can Ladra make an indelicate suggestion: Don't announce keynote players. Say "surprise guests," instead and whoever ends up being the biggest politico at the party can fit that bill.