Roll the dice. Pick a card.
Or a candidate.
The race for Miami-Dade School Board in District 7 has already become a backdrop for the larger casino gambling issue that Ladra will bet — in fact, I'm all-in — becomes part and parcel of a bunch of campaigns this year, including what promises to be an epic battle between the No To Casinos and Yes to Jobs (R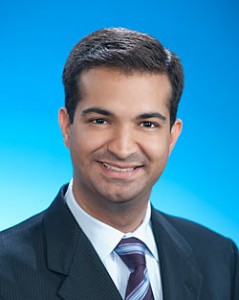 ead: Casinos in disguise) dueling PACs (more on that later).
But what could have been a routine and uneventful re-election of School Board member Carlos Curbelo could turn into a much louder public debate about lobbyists serving as elected officers.
That's already the basis of the Geno Perez campaign. The public school teacher and union leader makes no apologies about the making a campaign issue of Curbelo's job as spokesman and lobbyist for the Genting New York group, investors who want to build a mega casino on an estimated $500 million worth of land they have already purchased downtown. Earlier this month, Ladra told you about the emails sent out by the Perez campaign that warn of a possible conflict of interest between Curbelo's job as a lobbyist for Genting and his role as an elected public servant.
The newest "big, bad lobbyist" attack comes in the way of a push poll conducted by Perez campaign man Emiliano Antunez — who seems to fashion himself a pollster nowadays. A push poll is defined as a survey in which no real data is sought, but questions are formed, instead, to drive a point into the public opinion. In this case, that a teacher would make a better public servant than a lobbyist.
And the people responded as expected. Well, sort of. Results shared with Ladra show that a whopping 85 percent of the 300 voters who participated in the automated poll would prefer a teacher to a lobbyist on the school board and Ladra knows that these numbers are released so that Perez can stump for more campaign cash. But shouldn't that figure be closer to 100 percent? Isn't something wrong when 6% of the respondents actually choose a lobbyist over a public school teacher and another 9% are undecided?
"Awww. They did the Elian poll. 'Does a child belong with his father?'" Curbelo said dismissively, referring to the controversial claims that the Cuban American community agreed, based on the overwhelming yes answer to that question, that the famous little rafter boy should be sent back to Cuba to live with his dad after his mother died on the desperate trip to the U.S.
"Who would you be more likely to vote for to represent you on the school board, a teacher with a long record of public service or a known lobbyist and partisan political operative?" Yep, sounds like the Elian poll to me. Duh.
The other question in the poll was just another opportunity to jab at Curbelo. "Do you think it is unethical for your elected school board representative to also work lobbying for a special interest group that appeared before the school board?" That's because it's no secret Genting wants to buy the school board's 10 acres downtown to add to their portfolio.
Almost three quarters of the respondents said yes, they thought it was unethical.
But Curbelo isn't worried much about those damning numbers. "I'm glad that they are spending money on useless polls like that so early on in the campaign," he told Ladra over the telephone when she called him with the results.
The incumbent might want to do some polling of his own and email voters and ask what they think of a teacher who gets friended on faceb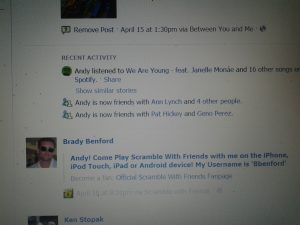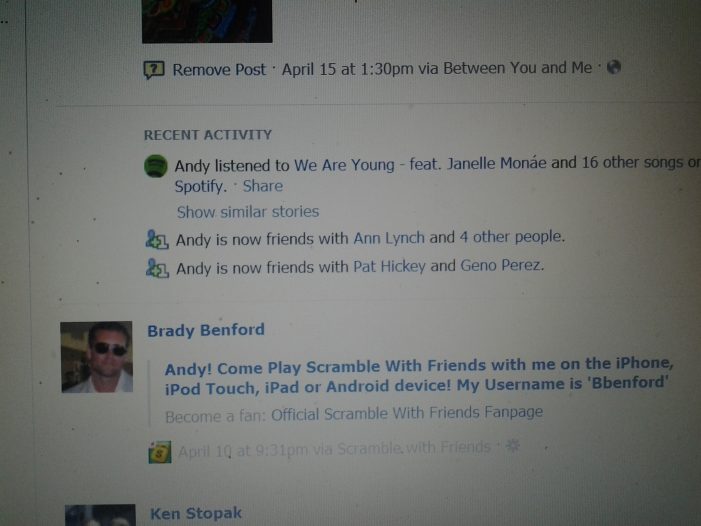 ook by the Vice President of Las Vegas Sands Corp., a Genting competitor who wanted or wants in on the Miami action.
Yes, Geno Perez is now friends with Andy Abboud (who is related to Washington, D.C., lobbyist Jeff Abboud).
First, Perez — who used to go to Nevada frequently and whose son is coincidentally named Vegas, showing that what happens in Vegas does not necessarily stay there — told Ladra he did not know who that was. Then, when I asked again, he said, "That casino guy? He has something to do with casinos, right?" Yes, something to do with casinos. And Perez couldn't explain why the notification of his new friendship disappeared from his wall (but Abboud was still in his friends list last I checked and he was on Abboud's wall).
Being the jaded bitch that she is, Ladra is naturally suspicious as sin. I dunno… maybe Abboud, who represents the Sands, which wanted desperately to be the gambling monopoly in town, read Ladra's previous post about this race and saw that Curbelo is cozy with Genting and so this is a way of taking the fight outside the arena. Oooh, like an illegal, underground bout. Winner takes all.
So far, there is no Las Vegas money in the Perez campaign coffers of $8,800, of which $7,500 is in loans from himself. Only $1,300 was in contributions from friends and fellow teachers and he spent more than that ($1,500) on Antunez's services so far. But Perez readily admitted he would be ready, willing and able to receive support from Las Vegas, where he used to go every year.
There is no obvious gambling money in Curbelo's much fatter (eight times) campaign account of $61.200. Yet, anyway. But there is plenty of lobby money. Ron Book gave $1,500 through his firm and his wife. Tampa lobbyist Trey Traviesa also gave $1,500 in three maximum $500 contributions. That seems to be the going rate, since $1,500 was added up from former U.S. Rep. Lincoln Diaz-Balart (Curbelo's political godfather), through his firm and his family, former Miami-Dade Mayor (and one-time, great white Dem hope) Alex Penelas via himself and two of his companies and former State Sen. Rudy "The Ghost" Garcia, who just lost his bid to become Hialeah mayor (he came in a distant third), through his wife and his consulting business (Curbelo had helped him so this is just the other back scratched).
He also got bundles from developer Armando Codina ($2,000), builder Massoud Shojaee of Shoma Homes ($1,500), real estate developer Jorge Ariel Lopez ($2,000) and Sunny Isles businessmen Hector and Humberto Ortiz ($2,500), who were big supporters of former Hialeah Mayor Julio Robaina in his failed bid for county mayor.
Curbelo is leading the fundraising race by 8 to 1 and this is without the benefit of PAC monies, which Ladra is sure will be involved. Perez has no funds yet in his PAC, the strategically-named Parents for Better Education, chaired by Kendall mom Bobbie Mesa and formed late last month. Curbelo says he has no PACs, though several of his friends and supporters have them, including PAC Superman Jose "Pepe" Riesco, who has no less than 10 PACs registered in Tallahassee and gave Curbelo his first $200 in his campaign (way back in September when the two of them were helping Garcia's doomed-from-the-start run for Hialeah Mayor).
"I don't have a PAC and didn't know he had one," Curbelo told me. "If there is a need for one I'll open one later. My goal is to raise all of my funds through my campaign."
That campaign account counts with some interesting gifts, aside from Penelas' keen interest. Curbelo — who is supporting Commission Chairman Joe Martinez's run for mayor against Miami-Dade Mayor Carlos Gimenez, because they are old friends and their districts overlap, he says — has a $500 contribution from lobbyist and Gimenez shadow Ralph Garcia-Toledo, who is heading up the mayoral campaign fundraising team. He also got $250 from former county Commissioner and one of the 11 2011 special recall candidates for the mayor's seat, Jose "Pepe" Cancio, who set the standard for proper behavior and etiquette in a political campaign last year.
Let's see who adheres to the Pepe Principle this year.