While most of the post election talk in Hialeah has centered around the victims of Mayor Carlos Hernandez and his vengeful abuse of power, there are some (like the new police chief) who have benefited from their new boss.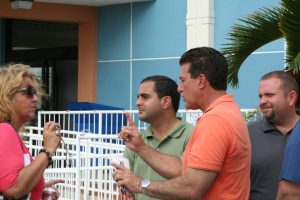 But nobody won the lotto like Arnie Alonso, photographed here nodding for the mayor during early voting at JFK in October.
The one-time city parks employee, who beat accusations that he stole vendor monies and rose through the ranks under former Mayor Julio Robaina's reign, went from being the mayor's assistant before the November elections to "chief of staff" now — a promotion that apparently comes with a 62 percent raise.
Yes, at the same time as firefighters, cops and street employees have their paychecks cut by five and 10 and 17 percent, the mayor's main lackey gets a $25,000 a year bonus — basically for watching his boss' butt.
Well, that's one way to compensate the unpaid leave of absence he ostensibly took while campaigning for the mayor during last year's re-election and serving as his spokesman, which I guess was training since he still does that now. The mayor did not return Ladra's call, but Alonso did. He told me to ask for public records regarding his raise and his job description, because as is his public servant habit now, he refuses to tell me anything. Very professional.
"What you said about my resume, that worked," he quipped, referring to a long ago post when I was sure su alcaldito would lose and showing he does have a little sense of humor. But he also hung up before I could ask him anything else. Why are they still so afraid of Ladra? There won't be another election until 2013!
Well, according to City Clerk David Concepcion, Alonso went from an annual salary of $40,200 a year to just over $65,000. Monthly, his paycheck has gone from just over $3,000 to almost $5,500.
I guess when Hernandez says these are "tough economic times," he only means it for some. Not for Arnie. It's an economic boom for Arnie.
Alonso would not tell me how his job changed and, instead, suggested I file a public records request. Well, that may be boring. And besides, it wouldn't mean anything. Last year, when he was "sdocial service family assistance supervisor, the position called for him to refer people to social services, conduct comprehensive client assessments, recruit and train volunteers, provide job referrals, coordinate community resources and a load of other crap that everybody knows he didn't do.
Arnie does the mayor's dirty work. Everybody knows this.
Maybe that's why Absentee Ballot Queen Sasha Tirador dumped him after just a short fling. He may have some money now — but he still has no stature.