Miami-Dade's large delegation of incumbents in the state House are scrambling to keep their jobs post redistricting and that means a change of address for some who are suddenly facing an ally an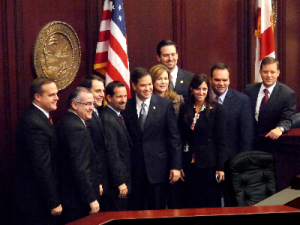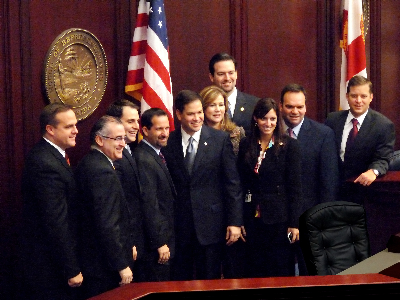 d friend inside newly-drawn boundaries.
But it looks like Rep. Frank Artiles (Rep., District 119) will not be one of those who has to move — again. Now in district 118, Artiles (photographed here with other members of Republican Hispanic Caucus and U.S. Sen. Marco Rubio in February), was basically forced to leave his Palmetto Bay house last year after Ladra caught him living outside his district five months into the term. Sure, he probably still has a lot of his stuff packed up in boxes in his new rented residence where his new neighbors are people who voted for him in 2010 (what a concept!)
But Rep. Carlos Trujillo (Rep., District 116), who was drawn into 118 with Artiles, is moving to somewhere around Sweetwater, which is now out of Artiles' area (making him more vulnerable, Ladra thinks. Didn't he get a lot of support from Sweetwater Mayor Manny Maroño and his crew?) Trujillo has to move anyway to accommodate his growing family (here he is photographed with his wife and new baby girl born Thursday). But he said and Artiles met to see who had the largest share of their respective old districts and Artiles won. "It was the right thing to do," Trujillo told me in a short telephone interview Saturday. "I know his wife. I know his family. How could I look him in the eye and say that I was going to campaign against him.
"Just out of respect for his wife and family, I didn't want to have to get into a nuclear war with him. It's not easy but it's just the right thing to do. It's obvious," said Trujillo,
who filed papers last Wednesday to change his candidacy to district 105, an open seat because the current incumbent, Rep. Joe Gibbons, a Democrat in Pompano Beach, has a new number, too. But there are already malas lenguas talking about a challenge to him there either from Sweetwater Councilman Jose Diaz or State Rep. and School Board Member Renier Diaz de la Portilla, who is currently filed in another district and has said he is not playing hop-scotch with the rest of them.
That's how crazy these musical chairs are.  The old 105 was in Pompano Beach. The new 105 is in Sweetwater. The new 119 is the old 112 represented by House member Jeanette Nuñez, a one time aide to former Sen. Alex Diaz de la Portilla (who might run in the new 112), and the woman to the right in the photo above. She is likely to remain if her only challenge is a Democrat named John Roques. The old 102 — where educator Manny Diaz, Jr., a former school board candidate who lost to Perla Tabares Hantman and is being backed by the Hialeah contingency had filed to run last year — is now the new 103, which gave Baby DLP a chance to get back in the House from his Doral home.
The school board member squashed rumors of a possible move to 105 against Trujillo (much to Ladra's disappointment because that would be more fun than the Diaz/DLP match). "I'm running in an open seat. I am not running against any incumbent. I'm not here to divide the delegation, I want to unify the delegation," Renier Diaz de la Portilla said in a short telephone interview from his father's farm in West Kendall. "I don't believe in cutting deals," he said, referring to the some members of the delegation backing Diaz in that seat. "Why is there a sense of entitlement for someone who has never been in office before. What's the agenda?"
Among those supporting Diaz are State Rep. Eddy Gonzalez (Rep., District 102) who was drawn into neighboring 110, the seat now held by GOP legislator and smoking buddy Rep. Jose Oliva, who gets a nice little compact district almost tailor made for himself so he can place most of his attention on his ambitious drive to become the next House Speaker (more on that later). Gonzalez (who with Oliva is also in that photo) won't go up against the stogie seller, who he bought $670  worth of "campaign cigars" in October, according to his campaign reports — so he is going to move into his childhood home in East Hialeah and run for seat 111. But not against State Rep. Erik Fressen, who was drawn out and is now in the new district 114. Yes, I know. We don't need a map. We need a control center.
But there are two GOP incumbents who are not having that awkward conversation about who is moving where: State Reps. Ana Rivas Logan (Rep.,District 114) and Jose Felix Diaz (Rep., District 115) who were both drawn into the new 116 and are already going after each other. Diaz, standing behind Rivas Logan in the above photo, is widely believed to be behind a flyer sent midsession way back in January that reminded voters she raised their taxes as school board member in 2005 and marked paid for by a PAC that was closed and whose chairman had died three years ago. Most think that Diaz, who has the most to gain from mudslinging at her, is behind it. Rivas Logan complained to the Miami-Dade State Attorney's Office. Ladra will have to sniff around to find out what they learned (more on that later).
And this is going to be one of those races Ladra will want keep an eye on. Because Rivas Logan is going to get ganged up on by the Miami-Dade delegation school of old boys who are backing Diaz. They have already given to his campaign and most of them have PACs that have given to his campaign (more on that later) and they have already had at least one joint fundraiser for him. "Whatever I have to do to get Jose Felix Diaz back in the Florida House, I'm going to do it," Trujillo said. "If I have to walk this summer with my 3-month-old daughter and 2-year-old son, so be it."
She is definitely the odd woman out. Not just because she was the only Republican member of the delegation to support Miami-Dade Mayor Carlos Gimenez against former Hialeah Mayor Julio Robaina. Not just because she chose to support Frank Lago, former Sweetwater Mayor Manny Maroño's chief of staff, against Oliva in last year's recall domino race for 110 to replace Esteban Bovo after he left to run for Miami-Dade Commission. Not just because she is the only member of the delegation not buying into that whole Oliva for Speaker sandwich. Not just because she does not vote along party lines and is not as "reliable" as Diaz for that (the delegates' word, not mine). But also because she speaks her mind and has the gall to resist the good ol' muchacho network that seems to barely tolerate our female legislators.
Several people have told me about a meeting where Rivas Logan allegedly threw off the pressure to join the Oliva train by reminding the freshmen legislators that she had been elected before, unlike them, and knew what she had to and did not have to do. Then she got up and left. "You reap what you sew," said one legislator behind Diaz.
Baby DLP — and the DLPs are openly behind Rivas Logan — said that the delegation is taking a calculated risk that could backfire on them.
"Clearly Ana has not been included," Renier Diaz de la Portilla said. "They talk about unity but unity includes everyone, not everyone except Ana. Why should she move if she's the front runner? It's illogical. She's lived there longer. She's served the community for eight years. Diaz has been elected for one and a half."
Rivas Logan said she doesn't remember confronting the cigar club at any breakfast meeting and walking out — or else she didn't admit to it and that's admirable: Good girls do not kiss off and tell. But she did acknowledge that she felt the cold shoulder from her colleagues and said it was not going to change who she was — or where she lives and represents.
"It's pretty flattering that they think it takes all the good ol' boys from the Dade delegation to take me out," Rivas Logan told me in a short telephone conversation Saturday.
"But I'm not in Tallahassee to make Speakers," she added in a direct referral to the Oliva fracas. "I'm in Tallahassee to make a difference for my community."
And that's one of the reasons Ladra likes Ana. Both of them are nice enough, but Ana's more up-front "it is what it is" style  is more in line with mine. She is a more experienced legislator with a refreshing independence from partisan politics and what seems like a mandate from the people.
Pero, chiiiiiica, you are not going to win many battles by being a a bitch like me. Do you want to say what you want to say or do you want to get what you want to get? Because, often, the two are mutually exclusive. I learned that in college, even though I don't always practice it and can respect someone for digging her heels into the ground. But, chica, don't squeeze them you-know-where. Wink and smile and tell them off con una cancioncita.
Oh, hell, who am I kidding? That's like the pot calling the kettle black, or los pajaros tirandole a la escopeta, as Ladra prefers to say. Dale, Ana. Don't back down.
Ladra suspects that if anyone backs down, it will be Diaz, who did not return calls and emails from Ladra. Sure, he would take a wash if he tried to sell the two-story, 4-bedroom, 3-bedroom house he bought for $350,000 in 2010 that is worth $285,000 now. But he could rent, like Artiles does. And can you imagine the egg on his face — not to mention the cigar-smoking good ol' muchachos — if he loses.
His supporters say that his wife is pregnant and he has a small child and they live near their in-laws. Oh, boo hoo. I can certainly sympathize, but now the guys are playing like pansies. Politics is a blood sport. And it's nuts to think Rivas Logan would leave a district where three past elections and a recent poll that at least some delegation members have seen show she clearly has the numbers. One could also argue that she has seniority, even though she was just elected to a Tallahassee seat, because she served that same community, where she has lived longer, in the school board.
And even though it's hardly as interesting, three Democrat incumbents were also drawn together into the new 107. But it has been reported that Rep. Daphne Campbell (Dem., District 108) will move to stay in 108 and that Reps. John Patrick Julien (Dem., District 103) — whose residency has already become an issue — and Barbara Watson (Dem., District 104) will face off.
That's what happens when the music ends and you have more politicians still standing than chairs.