Miami-Dade Commissioner "Mayor Sir" Xavier Suarez is likely not going to run for county mayor, despite early indications he would consider it. That's what most of those close to him say, anyway.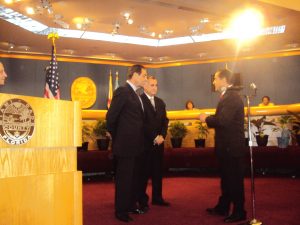 But he won't put the rumor to rest as long as he can use it to light a fire under Mayor Carlos Gimenez's, er, feet.
"I don't feel the need to put anything to bed, if it makes things happen more quickly," he said over lunch at El Pub in Little Havana Wednesday where he had the tuna salad con dos croquetas, his usual. (Yeah, I know. Tuna salad at El Pub?Who would have thunk?). He hopes and believes the threat of such competition could pressure Gimenez to move on several District 7 issues the commissioner considers vital: The Coconut Grove Playhouse, the pending Virginia Key landfill inter-local agreement ($9 million a year in revenue for the county) and the long drawn-out development (and lawsuit) on the South Miami Hometown Station project.
"He turned away an offer and never consulted us," Suarez said, "
But, faced with no challenge in his current seat, Suarez — who won the short term after Gimenez resigned to run for mayor — certainly seems to be campaigning against his predecessor.
The Harvard-educated attorney — photographed above at last year's swearing in of both he and fellow recall domino Commissioner Esteban Bovo — has been increasingly critical of Gimenez, who beat him for that seat eight years ago, at both public meetings and in the media.
The three March 2 memos (read: widely distributabe public documents) on the above mentioned issues from Suarez to the mayor, photographed together here at a December presentation in commission chambers, are scathing.
"You have no ti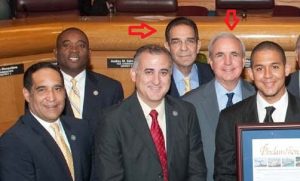 metable for resolution and we are back to square zero on this all-important project. I have offered to work with you and the county attorney on the effort to expedite the litigation," Suarez wrote about the long-delayed, controversial Hometown Station mixed use project in South Miami.
He accused the mayor of strong-arming the city of Miami over the Virginia Key plan. "You threatened with refusing to grant any permits for a city-operated transfer station, adding that 'such permit would never be granted so long as the director of the department in question held that position.' That is a foolish statement on your part, since you must know that a court would grant mandamus of that permit, if all pertinent requirements were met by the City."
And he said the mayor was also dragging his feet on the playhouse. "You were unable to respond to my specific recommendations on a settlement that would clear title of all claims, at a cost of about one-eighth of the debts incurred by the previous owner-operator of the facility and about one-fourth of the filed encumbrances," Suarez wrote. "Instead, you once again insisted that you had to complete the 'due diligence' analysis that has been presumably going on since I first started reporting to you on negotiations towards obtaining clear title."
"We've been doing due diligence for eight months," Suarez told me between bites and several high fives when it appeared we agreed on a matter (procurement code reform and bloated salaries for deputy mayors) or he sensed I got his point. "He's not being effective."
While Ladra still likes her fireman mayor, Gimenez does have some 'splaining to do and, again, could not be reached for comment about these things. Like a typical politician, which Ladra thought he was not, the mayor hasn't returned many of my calls since he was elected. In fact, I think he returned two very early on. He has had one of his handsome G-Men do it since then. But several members of his staff could not get him for me on Thursday. New Times writer Frank Alvarado reported earlier this month that Gimenez would not discuss the Hometown project because it was in litigation but that the mayor met last month with the new Hometown Station property owner, car mogul Gus Machado, who has contributed $2,000 to the mayor's Common Sense Now PAC. What Frank forgot to say was that Machado, who supported former Hialeah Mayor Julio Robaina against Gimenez last year, had also given $3,000 in bundled contributions to the Gimenez camp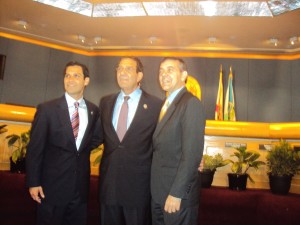 aign acount. Ladra is glad that at least one Hialeah businessman — and Machado does get business from the city — has the guts to risk their contracts and support whoever they want politically.
So, while Suarez (photographed here at his swearing-in flanked by Sen. Marco Rubio and U.S. Rep. David Rivera) may not want to risk what looks like an easy coast to re-election so far, he may still enter what is now the two-man mayoral race — despite 11 candidates (more on that later). It all depends on how well Miami-Dade Commission Chairman Joe Martinez, the second man, does in the polls and in fundraising.
The latter is something Commissioner Mayor X  — who raised more than $250,000 for the commission seat campaign in less than five months — may have an advantage on. He's already had at least one fundraiser and has another tonight, hosted by Carlos Trueba, the CPA who is treasurer to former State Rep. Juan Zapata in the District 11 race to replace Martinez, and former Hialeah Councilman Herman Echevarria, who las malas lenguas say still runs Hialeah behind the scenes and Mayor Carlos Hernandez's skirt. He wouldn't tell Ladra where the fundraiser was. Probably because he suddenly remembered those people would issue me an illegal trespass warning. (So if anyone knows where it is, send me the address please). I asked and X told Ladra that he had a good relationship also with Robaina and that he hoped to also get his financial support (Ladra could hardly keep her croqueta down).
He also plans to rake in the bucks at a May 11 "banquet" where his goal is to sell more than 1,000 tickets at $100 a head. Since a table seats ten, and $500 is the maximum contribution to the campaign, some people are going to have to split tables like Miami Mayor Tomas Regalado and his daughter School Board Member Raquel Regalado have done. Suarez offered to comp Ladra a ticket, but I told him I'd go and not sit or eat. It's better that way. (He did pay for the $17 lunch — I had tuna salad also — before I could pay my half, but with his personal AMEX, not on the county dime. And he promised to let me get the next one, which is what he said he does with lobbyists).
A flush of funds in his campaign account would do one of two things: Scare away any potential challenges to his current seat or give him the confidence to take a stab at Suarez for Mayor.
And while Ladra believes he would draw more votes away from Martinez than Gimenez, a three-way race with Suarez could guarantee a run-off.
But Ladra doesn't know if he'd win either round. And it could be a terrible loss of checks and balances and the district priorities he is fighting for — as well as colorful and often brilliant arguments — if he weren't in that commission seat.