In addition to the District 11 county commission seat left by Chairman Joe Martinez to run for mayor, there are six other commission seats up for re-election this year.
But so far, only two of the incumbents have drawn opposition — and the challenges are weak.
Commis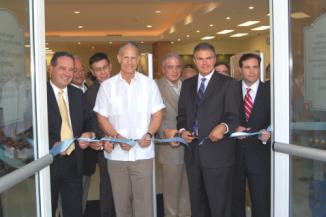 sioner Bruno Barreiro was the first to draw 0pponents and has three wannabes dogging him.
About a year ago, Ricardo "Ricky" Rodriguez filed to run in District 5. He hasn't gained much traction with a $100 loan to himself and a $166 in-kind, also from himself, for website design and hosting. But retired veterinarian Carlos E. Muñoz Fontanills,who filed in July, has raised $6,800. That includes at least $2,500 from three Presidente Supermarket chains, a Presidente cafeteria, and the CEO. Muñoz says he has done publicity for the business. He also gave back with about $750 bought in food so far from the grocery stores. In fact, Muñoz has spent nearly all his contributions, $6,400, including two $500 payouts to himself for "petty cash" right around Christmastime. He filed letters to explain the expense but couldn't recall what it was when he spoke to Ladra Tuesday morning (I'll get those later).
A fourth name was added to the race this month when psychologist Calixto Garcia — who is said to be a descendant of the Cuban general hero — filed to run. Garcia has not reported raising anything yet, but he can hit up his treasurer, Calle Ocho Chamber of Commerce President Eloy Aparicio up for at least $100. After all, that's what the owner of Ultral Jewelers in Little Havana gave to Muñoz Fontanills' campaign in December before he found a better candidate.
Barreiro has raised almost $90,000 as of Dec. 31, the most of anyone — in this seat or any commission race so far. Barreiro appears to be a practiced bundler, with at least $5,000 in 10 maximum contributions from Lincoln-Marti schools founder Demetrio Perez and family and businesses, another $2,000 from lobbyist Miguel de Grandy, at least $3,000 from developer Jeffery Berkowitz through his multiple corporate entitities, ten maximum $500 contributions from real estate investor Russell Galbut and his family and firms, $6,500 so far from Jorge Perez's Related companies, $2,500 from Robert Garner and his Medics Ambulance companies,$5,000 in 10 contributions from Rene Gonzalez and his ambulance companies and other firms, $2,500 from Humberto Lorenzo and his  family and real estate and paving companies and at least $2,000 from contractor Pedro Munilla and his family members. Other notable donors include Democratic Party political powerhouse Freddy Balsera, School Board Member and gaming lobbyist Carlos Curbelo, Miami City Commissioner Frank Carollo (photographed above, right of Barreiro, as they and other then-electeds opened the county library system's Hispanic branch in 2010) and former Miami Mayor Manny Diaz, who each gave the maximum $500 and former State Rep. and Hispanic Republican Caucus leader Manuel Prieguez (Rep., District 113), who resigned his seat mid-term to become a lobbyist and spokesman for the slot machine industry, who gave $1,000 through his two companies (so far).
Barreiro, whose wife is running for a state rep seat (more on that later), has spent almost $30,000 of his campaign money, including $2,400 for an IPAD and a time capsule and computer software and supplies from Apple in August and September. But he must be running a high-tech campaign because he also reimbursed himself $4,170 for a computer in October. He also paid about $9,000 to campaign staffers Natalie Diaz ($6,400 in November and December alone) and Manuel Cano and almost $10,000 in postage.
Bruno was the only incumbent facing opposition until earlier this month, when Commissioner Barbara Jordan got a challenge from Wade Jones, former community liaison to Commissioner Edmonson. Someone told Ladra that Jones, who is president of Wolf Political Consulting, was once Jordan's campaign staffer, but Jones said Ebony Star Jones, who ran the commissioner's 2008 race, is just a friend. Jones is a U.S. Army National Guard reserves officer and a former Miami-Dade Transit supervisor of bus operations under former Miami-Dade Transit Director and failed county mayoral candidate Roosevelt Bradley (maybe Jones knows where the bones are buried, too!). Helping him is local Democratic Party activist/ political consultant Stacy Richter, who was involved with the 2010 state rep campaign of lawyer Lisa Lesperance, who lost to State Rep. Michael Bileca (Rep., District 1117), who is running or re-election unopposed as of  today.
Jordan, who collected $185,000 in contributions for her 2008 run, has a head start on finances with her own bundles of maximum contributions, including at least $3,000 each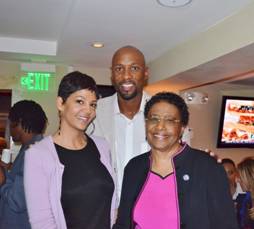 from Shoma Homes owner Shojaee Masoud and Coral Gables property manager Armando Guerra. But she only got $1,000 from The Related Companies, who I guess got tapped out with Barreiro. And nothing yet from former Heat player Alonzo Mourning or his wife Tracy, photographed here with the commissioner during a fundraiser earlier this month for jazz great Melton Mustafa.
Unopposed so far are newly-minted incumbents Commissioner Mayor Sir Xavier Suarez and Commissioner Esteban Bovo, who won their seats due to last year's recall domino effect (Bovo replaced recalled commissioner Natacha Seijas and X replaced former commissioner from District 7 and now Miami-Dade Mayor Carlos Gimenez, who replaced recalled mayor Carlos Alvarez).
In the District 7 race, Ladra doubts we will see former State Rep. Julio "The Good One" Robaina, who lost his strike three race for South Miami mayor last month (more on that later),in a rematch after his solid loss to Suarez last year. But let's not rule out a repeat run by attorney Ricky Corona — who was robbed last year by the elections department and the courts when he was not allowed to qualify in time due to a technicality. Corona told Ladra he had gotten some encouragement from supporters and would consider it, but he didn't seem terribly moved. That's too bad. It would be fun to watch the streetwise, straight-talking activist attorney scrap it out with the eloquent Harvard-educated Ivory tower attorney.
Of course, Suarez may give way to anyone (read: friend and termed-out State Rep. Carlos Lopez-Cantera) if he decides to jump into the county mayoral race. But Ladra doubts that he will do that and will report back to you, dear readers, after I have lunch with Commissioner Mayor X Sir on Wednesday.
And where are all those crazy not-even-closers who were trailing Bovo during last year's mad dash for his promised seat? Nowhere. Ladra is flabegasted that Bovo would seem such a strong candidate that he hasn't drawn one single challenger. If former Hialeah Mayor Raul Martinez, who lives across the street from Bovo and says the commissioner is always home, really wanted to get back into politics and help his community, he would shake off his loss last November to Mayor Carlos Hernandez and throw in his hat. A Martinez vs. Bovo battle would be even more fun than the Suarez vs. Corona fight!
Ladra suspects that while we may not see any real challengers to those two newbies, the other four incumbents — who complete the full group originally targetted for recall last year along with former Commissioner Natacha Seijas — could easily face opposition. Why? Because they are the members of the commission not among the votes that car dealer millionaire turned political puppeteer Norman Braman can count on, as they show consistently. Edmonson, Jordan and Moss most recently voted earlier this month against putting the Braman-pushed term limit measure on the ballot. Barreiro may be trying to mend fences and voted in favor. But so far there is no obvious Braman money in his account. Car dealers Lombardo Perez, of Metro Ford, and Mario Murgado of Brickell Motors have given the maximum $500 donations, but nothing from Braman or the political pocketbook of Gus Machado, a serial campaign contributor.
But while Aparicio said he still hoped the auto magnate would open his wallet up for Garcia in the District 5 race, he was not jumping at the bit, which could mean Braman's magic may be looking like an old hat trick already to a a community that is waking up to the fact that he does not really represent them or have anything in common with them.
"We want to talk to Mr. Braman, of course. But there is a lot to think about," Aparicio said. "There is the psychology and the mood of the community to consider. Money is important but feelings and the position of the people are more important.
Still, if not Garcia, Ladra will bet Braman finds another horse or two or three for at least some of these races. Qualifying is not until June so he has plenty of time to train and groom his ponies.
Surely, he is not sitting this one out.