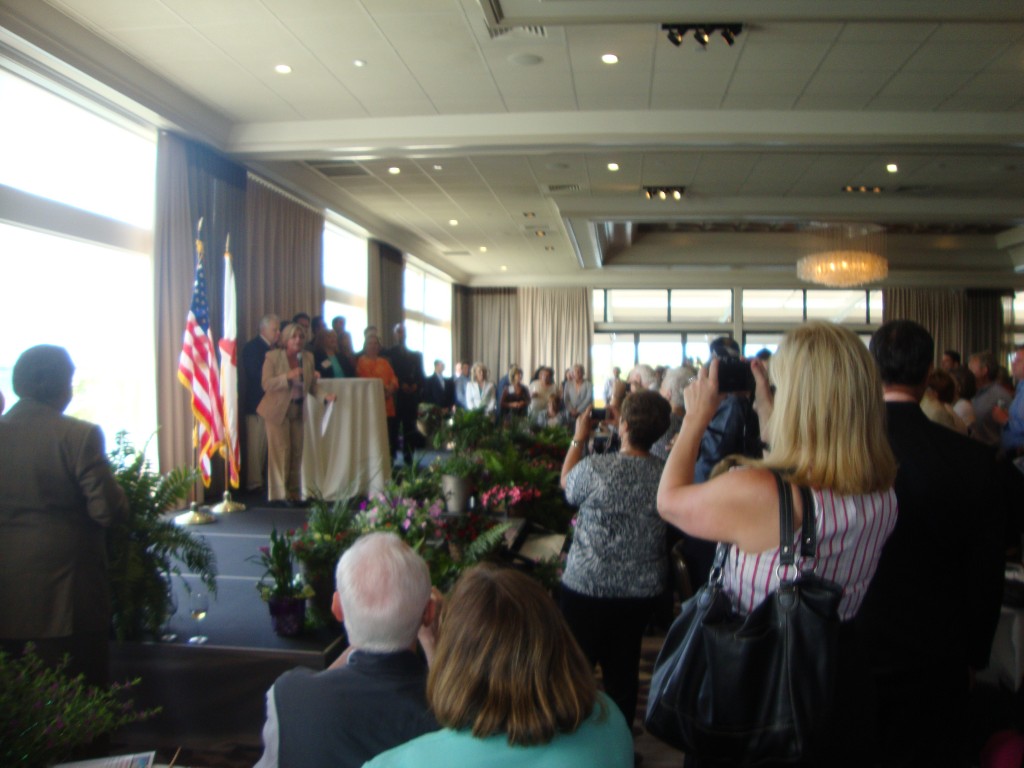 U.S. Congresswoman Ileana Ros-Lehtinen (Rep., District 18) kicked off her re-election campaign with a packed Sunday evening event at Miami's Rusty Pelican where House Majority Leader Eric Cantor (of Virginia's seventh district) — the "most powerful person in Washington," according to GQ magazine (and we all know what a political guide that is) — stomped for her sure thing.
"This election is more important than any election I can think of because we need a new leadership," Cantor told the crowd of more than 200 people. "And we need to send back the strongest Foreign Affairs Committee leader we've ever seen," he said, referring to Ros-Lehtinen, who chairs the committee since last year. Because he was preaching to the choir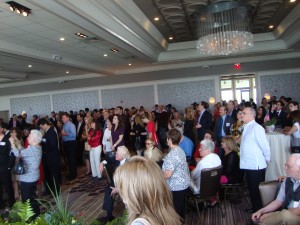 , I guess, he used the rest of the time to bash President Barack Obama as former U.S. Congressman Lincoln Diaz-Balart (Rep., District 21) and U.S. Congressman David Rivera (Rep., District 25) nodded like bobbleheads. Cantor brought up U.S. Israel relations (even though Ros-Lehtinen has been criticized for taking a campaign contribution from a South Florida businessman developing in Jerusalem. "Where is our leadership," he said to an approving audience that included about a dozen Holocaust survivors.
Ros-Lehtinen had the survivors there to underscore her push for aid to survivors bill that would allow them to sue European insurers. But her long thank-you speech covered many special interest groups — gays, chiropractors, realtors, Turkish Americans — as she also gave nods to her family, staff, supporters and host committee, which includes millionaire car dealers Norman Braman, Mario Murgado and Gus Machado. Also on the committee, most listed with their spouses, were Stanley Tate, Demetrio Perez, Sr. and Jr., developers Pedro Adrian and Tibor Hollow, Herman Echevarria, George Feldenkreis, Fausto and Remedios Diaz-Oliver, Bruce Kaplan, Ric "Boom Boom" Sisser and Dr. Phillip Frost.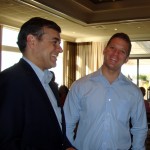 Support also came from electeds, past and present, in the room, not just Diaz-Balart and Rivera, who were expected, but also State Rep. Carlos Lopez-Cantera, who was politely accessible about his own post term limits plans (more on that later), Miami-Dade Commissioner Lynda Bell, Doral Councilman and mayoral candidate Luigi Boria, and former State Rep. and third place county mayoral candidade Marcelo Llorente (Rep., District 116), whose name is curiously missing from the myriad races this year (more on that later).
Ros-Lehtinen (photographed getti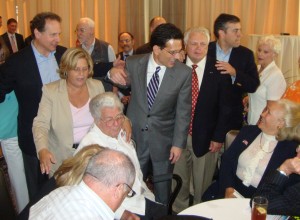 ng into position for a photo op with her father, Enrique Ros, and Diaz-Balart, Cantor, Dexter Lehtinen and Rivera) was entertaining and charming, as usual. She called the boys from Belen Jesuit who were collecting her signatures to get on the ballot one by one on stage for a photo. "Stephen Tyler… Oh, I love your music," she joked with one of them whose name matches the Aerosmith frontman. She played matchmaker after thanking Dr. Ronald DeMeo, who she called the best looking man there. "After Dexter," she quickly recovered. "And Lincoln. And Eric," she added. "I think he's single, ladies." Then, she asked the Adrians on stage with the baby only, not the other seven children. "This thing will fall," Ros-Lehtinen said, and she stomped her foot on the platform, which was packed, by this time, with supporters she had called up for a photo op.
After having trouble with pronouncing the name of the representative from the Turkish Coalition USA PAC (Mehmet Bayraktar), she apologized and quipped: "I have a difficult name and I don't get upset when they mess it up." And she apologized in advance if she had left anybody out. "Who have I slighted? Have I done sufficient damage?
"I just read what they give me."
Nah. She adlibs with the best of 'em.