Hialeah CouncilwomanVivian Casals-Muñoz may leave her days of notarizing questionable mortgage documents behind forever to become, drum roll, a lobbyist.
Casals-Muñoz, who ha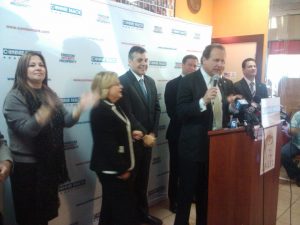 s been a much higher profile pol after her sweeping November election victory, filed papers Jan. 17 with the Florida Division of Corporations to open a new business called Vivian Casals-Muñoz Consultants, LLC.
The councilwoman would not return multiple phone calls and emails to her about this and other items (more on that later) — and, frankly, she's been less politely accessible since shortly after the election and rumors about her political aspirations (which I seek to confirm) and personal relationships (which Ladra cares nothing about) started to stir — but my money is that her professional services will be directed toward government consulting for businesses. Doesn't everyone agree?
Casals-Muñoz, who as executive director of the Hialeah Chamber of Commerce and Industries has been actively seeking businesses to come into the City of Progress (mmmm, is she moonlighting already?), has been all over the political spectrum lately like she's still campaigning.  The opening of Hialeah Park. The League of Cities Gala. The Imagen Hialeah cocktail. While she seems to have kissed and made up with Mayor Carlos Hernandez, she speaks up more at council meetings, asking questions on items b
efore rubber-stamping them as part of the Seguro Que Yes committee. She lost weight and has cleaned up her frumpy look, even though she still has that snaggletooth. And she stood between Congress Members David Rivera and leana Ros-Lehtinen at Chico's last month as a bevy of VIP Republican electeds endorsed U.S. Rep. Connie Mack in his run for Senate against Sen. Bill Nelson. (Neither Mayor Hernandez nor Council President Isis Garcia-Martinez were there. Hmmmmm.).
Those photos will look great on the walls of a government consulting office.
The registered agent for her consulting firm is Alberto M. Aguiar, who was also president of the Defeat Bill Nelson PAC that formed in 2009 (it was administratively dissolved last year for failure to file the annual report). Wonder if there is a connection there. Aguiar has also been business partners with some of former Hialeah Mayor Julio Robaina's business partners and contributed the maximum $500 to Robaina's failed county mayoral campaign. Makes Ladra wonder if Robaina is involved. Some malas lenguas say Casals-Muñoz — who also testified last month before the federal grand jury looking into Robaina's business dealings — and her brother-in-law mentor are on the outs. But political bed buddies jump out and back under the covers all the time (look at her and Hernandez), so Ladra doesn't put much weight in that.
Or maybe Robaina will be her first client.
No, wait. That might be Alex Perez, owner of FPI Security and Florida Gun Center, who helped Casals-Muñoz on her campaign after his childhood friend, former police officer Danny Bolaños, broke his heart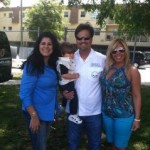 and sought the endorsement of third candidate Tony "Phony" Vega, who built an illegal gun range to compete with Perez' place (more on that later). To return the favor, she is promoting his business, which is something Ladra's alter ego (who works on social media management and is transparent about it) did post election before Perez had his secretary fire me, perhaps as a favor for his new friends and lobbyist. Once a self described "partner" of Ladra's (or maybe a pretender), he has cut her off abruptly and completely since he started hanging around his new buddies, which include mayoral secretary Lisette "La Chonga" Franco and Council President Isis "Gavelgirl" Garcia-Martinez, who he said was spreading rumors about him just two months ago. Is this a "keep your enemies closer" kind of thing?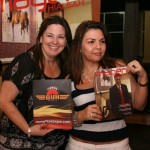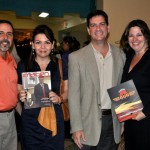 Anyway, Casals-Muñoz is very actively promoting Perez. She kept holding up the Imagen Hialeah magazine backwards with the Florida Gun ad on back in every photo taken during the magazine's party last month. She brought Perez onto the Buenos Dias Hialeah radio show on WQBA and had an event for the Hialeah Chamber of Commerce, where she is executive director, at his indoor gun range.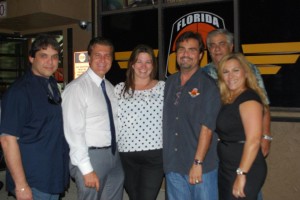 But her most important role is that of mediator, or bridge builder. Because it looks like the councilwoman is now helping Perez — who had campaigned first for former State Sen. Rudy Garcia and then for former Hialeah Mayor Raul Martinez in the run-off against the incumbent — smooth things over with Mr. Mayor. Perez said such pestes about Hernandez and his cohorts, including Franco and Gavelgirl, who he spent time with at the mayoral picnic. But, a successful businessman, Perez feared retribution for his political involvement from Hernandez et al. Step in Councilwoman Casals-Muñoz and, voilá, no more hard feelings, as evidenced in these photos.
Sigh. Local politics is such a hotbed of hypocrisy.