Aside from a public appearance or two, like his lonely attendance at the opening of Hialeah Park in December, former Hialeah Mayor Julio Robaina has sort of been MIA since he lost the county mayoral race last year that he was once poised to win.
A Florida G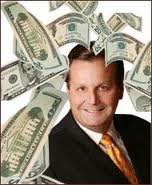 OP darling this time last year, Robaina did not appear in the clusterfuss of elected and former electeds who endorsed U.S. Congressman Connie Mack (Rep., District 14) for Senate at Chico's last month (more on that later). A powerhouse fundraiser for GOP candidates in the past, Robaina was not around much during all the brouhaha around the big presidential primary fest that centered around Hialeah recently.
His silence and slip from the limelight seem to indicate he is not only going to stay out of the county mayoral race this year, but he is not going to try for any state seats in the cradle of Hialeah, where he still won 75 percent of the vote last June in his loss to Miami-Dade Mayor Carlos Gimenez.
But don't assume he's lying low due to any pending charges or accusations stemming from a long stalled federal grand jury investigating his business dealings with a Ponzi schemer and loan operations with the Blanco family. Robaina's most recent activities seem to indicate he doesn't fear any legal repercussions for his role in the mess. And rumors of his deep slide into alcohol-laced depression could be projection by his detractors.
Because, in fact, it looks like Robaina is back to what he does best: Building his real estate empire.
Robaina has entered into at least six new business partnerships since his political collapse, according to Florida Division of Corporation records. And Ladra can't help but wonder what kind of deals Robaina – whose net worth went from about $800,000 to $8 million while he sat in office – is going to cook up next. Especially since he's gotten quite creative with some of the company names.
Take Yolo Real Estate Development, filed in October of last year – just as his protégés on the city council were campaigning for re-election – with brother-in-law Francisco A. Mestre, a partner from other companies Robaina has owned. "Yolo," as anyone with a preteen in love with Drake knows, is urban rap speak for "you only live once" — which strikes Ladra as an interesting name for a real estate firm in this market decline. But it wasn't enough to have one Yolo because, true to his form, Robaina and Mestre opened a second company, Yolo Real Estate Development II, in December. Can someone tell me what the benefit or reasoning behind that is, if it is indeed legit?
Baby Yolo, the junior or Yolo II, has already made it's first investment: a 7,500-acre vacant parcel in Little Havana in the 200 block of Southwest 16th Avenue purchased in December for $55,000. That's half its market value of $108,000, according to county property records, which reflect a 50 percent drop from 2010's market val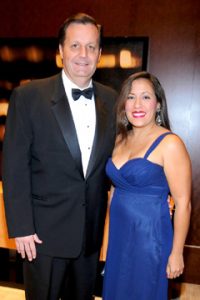 ue of $258,000. It is zoned residential or medium retail. But it seems like small potatoes for a man who was planning multi-million dollar complexes on dozens of acres at a time. Maybe the foreclosures he and his partners have had in the last couple of years have made him more cautious.
The two most recent business ventures were filed by Robaina with the state on Feb. 8 and in partnership with his  wife, Raiza Villacis-Robaina, putting to bed any rumors that she is going to divorce him. Instead, Raiza Villacis-Robaina (photographed here with her husband at last year's American Cancer Society's Gala) may simply have insisted her sneaky spouse be on the documentation with her this time, after he threw her under the bus in the whole freelance loan business thing being studied by a federal grand jury. Now he can't say "it's my wife's company." Kudos to her. Both husband and wife are listed as managers of JRRV Holdings, LLC, and 5 Monkeys Enterprises, which gives a whole new meaning to the term "monkey business." But is it a reference to the nursery rhyme or the alleged experiment with five caged monkeys and bananas that turns out to be a hoax. I'm curious.
I couldn't reach Robaina to ask him about it (not that he wouldn't simply hang up on me without answering like he did the last time) because the only number I have for him rang and rang and rang and nobody picked up. Not even voice mail. I did leave a message with a number I got for Mestre. But did not get a return call.
Another Mestre, Robaina's sister and Francisco's wife Teresa, was named along with Robaina as new officers on two existing corporations on Sept. 21, 2011. Both were added to corporate filings for Gables by the Sea, Inc., and Monte Carlo Apartments by the president of both companies, Lazaro D. Alonso. Robaina had been an officer of the Gables by the Sea company before, it seems. I left a message with Alonso at his engineering surveying company as well and Ladra will update it if more details become available.
But, for now at least, we can rest easy that Robaina is not suicidal and breathe a sigh of relief that he seems too busy making deals to run for office.